Trinity Christian alumni provides inspiration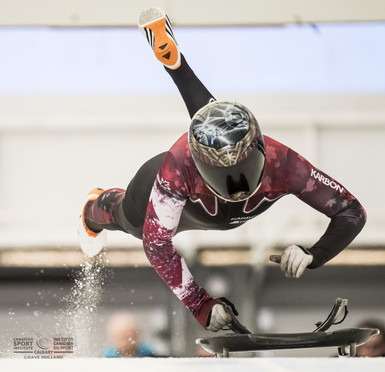 CALGARY – On the dawn of her first-ever Olympics, Elisabeth Vathje's visit to Trinity Christian School brought her journey full-circle.
It was here that one of Canada's top hopes in skeleton at PyeongChang, South Korea first found her Olympic inspiration. Vathje hoped to return the favour in kind at the kindergarten to Grade 9 Palliser school.
"Not many people pursue their dreams anymore, and I go and chase my dreams every single day," said the Calgary native, as she set up for the first of her presentations at Trinity Christian School. "I was given this dream in 2002, and 16 years later, I'm here now. I want kids to not limit themselves and I want them to see that God has been graceful to me, and I wouldn't be able to achieve all I have without him."
Vathje got caught up in the spirit of the Olympic movement in Grade 2, when all of the students were assigned to follow a specific country competing in the Games at Salt Lake City that year.
"From then on I was just trying to find a sport I could make the Olympics in," she recalled. 
Fencing and snowboarding were among the sports she tried and crossed off the list. Skeleton emerged in a roundabout way after her father met members of the national men's luge team during a flight. Although she knew nothing of the sport, the 14-year-old took to skeleton immediately.
Vathje won a silver medal at the 2014 World Junior Championships and went on to win a gold, three silver and a bronze medal in her first year on the World Cup circuit in the 2014-15 season. She recently captured her first career Crystal Globe for finishing third place in the overall World Cup skeleton standings.  The 23-year-old won three silvers and one bronze medal this season.
It was the speed of the sport that captured her attention immediately, and Vathje finds it doesn't take a lot of convincing on her part to get children interested.
"I think it kinds of sells itself because everybody loves tobogganing. And when you get to go head-first down a frozen water slide, it is pretty appealing," she said. "My top speed is 140 kilometers per hour, and to be able to push that every single time I go down the track is pretty cool."
Vathje is peaking at the right time. If she has her best day, she sees no reason why she can't be standing on top of the medal podium in South Korea.
Although many of her teachers have since moved on, Vathje has no lack of supporters at Trinity Christian School as she knows a number of the staff and students through church connections.
While her grandparents will be staying behind in Calgary – where they'll  join friends cheering Vathje on at an early morning viewing party at their church – her mother and father will join her in South Korea. Her biggest fan, however, is fiancé Benjamin Maier. Vathje met the Austrian bobsleigh driver on the sliding circuit and he provides more than just emotional support.
 "It's cool because if I have an issue in sport, I don't have to explain it to him because he knows it," she said, adding he can also help her with things like finding the best line down the track.
Although her parents will be waving the flag for all her Canadian teammates, Vathje said they all understand "Bennie" gets the loudest cheers of all.