Vice-Principal named for Coalhurst Elementary School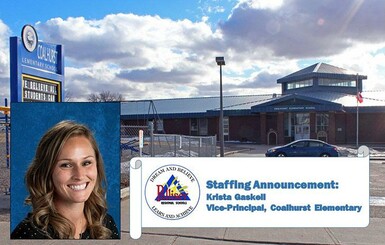 Palliser Regional Schools is pleased to announce that Krista Gaskell has been appointed to the role of Vice-Principal, Coalhurst Elementary School, commencing July 1, 2020.
Krista graduated from the University of Lethbridge in 2004 with a Bachelor of Education degree and a Bachelor of Arts degree. In 2011, Krista completed her Master Degree in Educational Leadership from the University of Lethbridge. Her Capstone project focused on building a collaborative school culture.
She began her teaching career with Palliser Regional Schools in 2006, with Noble Central School, where she taught Grade 3. In 2007, Krista moved to Sunnyside School and taught Grades 2, 3 and 6. She also taught Grade 2 at Jennie Emery Elementary in 2011 before moving on to assume the Vice-Principal role at R.I. Baker Middle School in 2012.
Krista believes in programming for struggling students to set them up for success.
"Empathy, understanding and respect is embedded in all we do and say," states Gaskell. "School is a safe place where students are cared for and valued as individuals. Classrooms are engaging and embody a culture of thinking."
Krista is looking forward to getting to know everyone in the Coalhurst Elementary School community and is excited to start building relationships with staff, students and families.
A busy 'hockey mom,' Krista spends much time with her three very busy boys, Parker, Kai, and Markus, at the rink. In addition to golfing and running, she also enjoys spending time outdoors with her children.
Congratulations Krista!