Vice-Principal named for R.I. Baker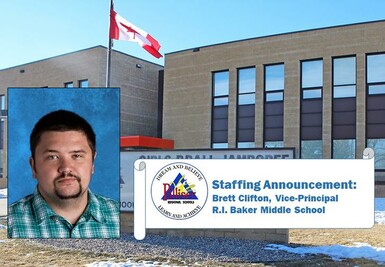 Palliser Regional Schools is pleased to announce that Brett Clifton has been appointed to the role of vice-principal to R.I. Baker Middle School, commencing August 26, 2020.
Brett graduated from the University of Lethbridge in 2012 with a Bachelor of Arts in Canadian Studies and a Bachelor of Education with a major in Social Studies. In 2017, Brett completed his Master of Arts at the University of Lethbridge in History with a focus on the First World War and its impact on southern Alberta society. He is currently near completion of his Master of Education through Athabasca University with a focus on leadership and alternative education settings.
He began his teaching career with the Lethbridge Public School Division in 2013, at G.S. Lakie Middle School, where he taught Grade 7 and 8 Social Studies. The following year, Brett joined the staff at Lethbridge Collegiate Institute where he facilitated the Independent Learning Centre, which functioned as an 'in-house' independent and distance education classroom. Brett later joined the staff at Wilson Middle School where he taught Grade 7 and 8 Language Arts and Social Studies and spent most of the 2019-2020 school year in a temporary vice-principal role.
Brett states that relationship building is the key to success in any educational setting and through his time at Lethbridge Public School Division, he has demonstrated his ability to forge strong connections with students, colleagues, families, and other stakeholders. Colleagues describe Brett as student-centered, highly knowledgeable in his curricular areas, driven, and focused. Brett is certainly ready to 'get going' with his new role at The Palliser School Division, thus bringing his talents to this next great opportunity.
Brett lives in Lethbridge with his wife, Kimberley, and their almost two-year-old daughter, Penelope. In his free time, Brett enjoys reading, collecting antiques, and continuing with academic writing in the areas of local and military history.
Brett is looking forward to getting to know the staff, students, and families at R.I. Baker Middle School and is eager to get involved in all the great things happening within the community.
Congratulations Brett!