Visit SW Calgary's newest elementary school Saturday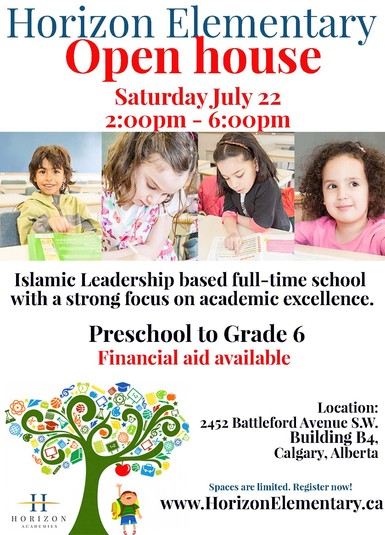 Palliser's newest school, Horizon Elementary School (HES) in southwest Calgary, is holding an open house for prospective students and families on Saturday, July 22.
The faith-based alternative school, located in Building B4 at 2452 Battleford Ave. SW, Calgary, will offer pre-kindergarten through Grade 6.
Opening this fall, the school will be operated by Palliser Regional Schools in partnership with Horizon Academy Institute (HAI), a registered non-profit organization. HAI has more than 10 years of experience offering the Arabic language, Islamic studies and youth leadership programs. Horizon Elementary School will the institute's first full-time school program.
The open house will run from 2 p.m. to 6 p.m., Saturday, July 22, giving families an opportunity to learn more about the school and its programs, meet the school committee and tour the facility. Refreshments will be provided.
If you'd like to attend the open house, please RSVP via their Facebook event at https://goo.gl/JvmVft, book an appointment at 403-607-0817 and/or email zineb.elkadiri@horizonacademy.ca.
To learn more about the school, please visit http://www.horizonelementary.ca/