Additional classrooms will serve Heritage Christian Academy students well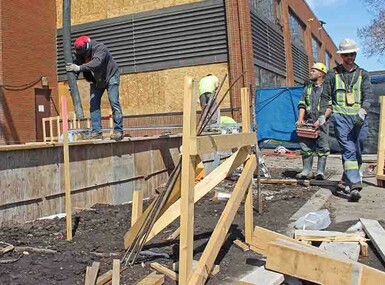 CALGARY – Construction of additional classroom space at Heritage Christian Academy is more of a curiosity than anything for students at present. The impact the expansion has on their learning opportunities, however, should be more than noticeable come the fall.
The Palliser Regional Schools kindergarten to Grade 12 school in northeast Calgary is addressing ongoing space challenges with a two-storey, four-classroom addition on the west wing.
One of the biggest benefits of the additional space will be the flexibility to allow for smaller class sizes for core subjects like math and language arts for younger students. Principal Leslie Olson says Heritage Christian Academy (HCA) believes that is vital in those foundational courses promoting literacy and numeracy.
"Those are the two main academic pieces that will follow students for the rest of their lives and build those comprehension skills they need, so it's important for us to try and keep class sizes smaller," she says, adding they've been able to achieve that at present, but have had to temporarily sacrifice a portion of the library to do so.
The project carries a price tag of about $950,000 and Milestone Construction has committed to completion by late August to allow the classrooms to be ready for the first day of the new school year.
As a faith-based alternative program, the building is owned by the Heritage Christian Education Society Calgary (HCESC) and does not receive government funding. This addition is possible due to the generosity of its stakeholders and also the careful budgeting and planning by the HCESC Board of Directors and staff.
The expansion, which will result in a multi-purpose room and three classrooms, should also allow the school to better deal with a large influx of students in a particular grade. When faced with such "bubble classes" they've added an additional class in that grade. This year an extra Grade 7 class was accommodated by moving some of the options classes into the elementary wing.
While Heritage Christian Academy is still exploring how the additional three classrooms can best be used, plans are already in place for the multi-purpose room. The elementary music class will find a permanent home there after being shuffled around the past few years.
That will save having to move musical instruments from room-to-room, provide greater sound insulation for adjacent classrooms and reinforce the importance of music at the school. Olson notes the secondary students – who have the chapel as a dedicated space – compete at a "world-class level" and the music program is a selling point for the school.
"It is one of the things that is a driver within our school," she says, adding a permanent home can help build that passion within the younger students.
The additional classrooms should also provide for more learning support space.
Brenda Giroux, Executive Director of the HCESC, says portable or modular classrooms were first being considered to rectify the space challenges. After the costs and long-term value were examined, however, the focus shifted to permanent classrooms.
In a very competitive market, she says class size is a definite benefit.
"To be able to have more of those smaller core classes available for our students, that's definitely attractive for families. Especially if they know their children need a little bit more of that teacher time, they know they would have that opportunity," says Giroux, adding school administration has done a great job of achieving that with limited space to date.
The project began in late March and disruptions to the school routine have been minimal, says Olson. One entrance has been blocked off, with access in case of emergency, and some of the windows looking over the work site were boarded up to keep the students' focus on their school work and not the construction.
While a small amount of green space was lost, it wasn't being utilized. The project will also see the added benefit of a better traffic flow for special needs students being dropped off on the west side of the building, she says.