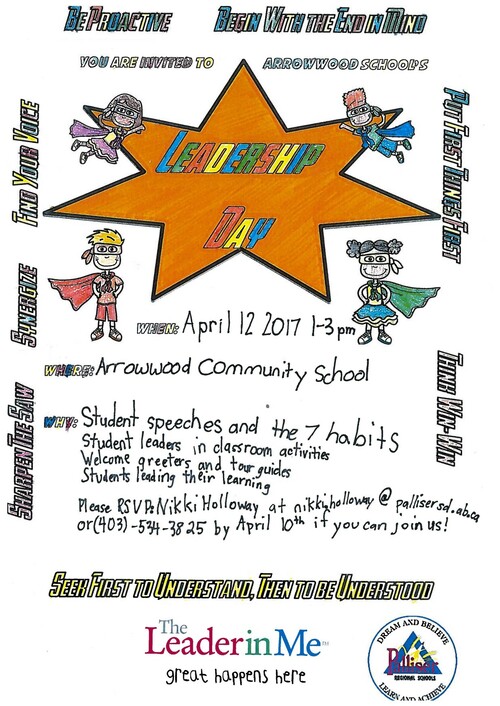 Leadership Day an opportunity to demonstrate Leader in Me efforts
ARROWWOOD — Students at Arrowwood Community School will stretch their leadership muscle at Leadership Day, from 1 to 3 p.m., April 12.
The public and teachers interested in The Leader in Me program are invited to visit the school for student presentations on aspects of leadership, student-led school tours and classroom activities at which students will demonstrate their learning.
The Leader in Me is a school program based on the 7 Habits of Highly Effective People, developed by Stephen R. Covey. Arrowwood Community School is in its fourth year of developing a Leader in Me program and is working toward achieving what the program calls "Lighthouse Status." Holding a Leadership Day is one of the requirements.
It's also a great opportunity for students to show how intertwined leadership is in everything about the school, says Principal Rachelle Prud'Homme.
"This is a huge step forward for us," she says. "This is our first time doing a Leadership Day. . . It's a great opportunity for us to show the community what we're doing, and for others to see what it means to be a Leader in Me School."
Recently, Prud'Homme and Arrowwood staff attended a Leader in Me Symposium in Edmonton, that included a chance to tour five schools that have embraced the program. Some of the schools had committed up to seven years to the leadership transformation.
"It was amazing to see the student talent," she says.
The program shifts thinking about student leadership beyond the idea that only some students will take on leadership roles. Instead, it acknowledges the leader in every student.
"Every student is a leader, whether they lead in art or science," Prud'Homme says.  "Leadership comes in different forms."
The language of leadership — seeking a win-win solution to a conflict or beginning with the end in mind through goal setting and progress measurement — is pervasive, she says. Visitors to the school will see that in action in many ways. Arrowwood students, for example, use graphs and charts to track data on their various goals, whether in their own learning of a particular subject or in their efforts to reduce waste around school.
The staff is highly invested as well, with each of the teachers and support staff stepping up to lead a "Lighthouse Team" on mentorship, organizing school events or one of eight other topics. The adult is a facilitator and the students lead the way.
While students are working hard on their various roles during Leadership Day, Prud'Homme is doing her part by inviting others to the celebration. She's inviting neighbouring school divisions, in case any of their schools are considering adopting a Leader in Me focus, and she'd love to have Arrowwood and area community members visit the school to see how leadership runs deeply through the school and its programs.
"We want to show our leadership victories, goals and learning and celebrate and demonstrate our leadership and talents," she says.
The event is open to all. Please contact Nikki Holloway by April 10th if you plan to attend, as space is limited. Call 403-534-3825 or email nikki.holloway@pallisersd.ab.ca if you can attend.
The Village of Arrowwood is located about 50 kilometres northeast of Vulcan. Arrowwood Community School is a kindergarten through Grade 9 school.