Bikers show support for student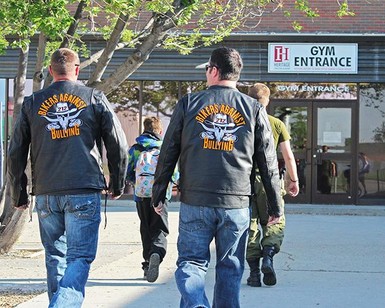 CALGARY – As they met halfway across the parking lot at Heritage Christian Academy, there was no confusing who was the principal, and who was the biker.
Yet Leslie Olson says she and Corey Ripley aren't so dissimilar, at least in one regard.
Ripley is the founder of Bikers Against Bullying, and he and 50 or so friends – many of them wearing the club's colours on their backs – rumbled into the school parking lot recently to show support for a Heritage Christian Academy student. A passenger on the lead motorcycle, the teen pumped his arm in the air triumphantly as the cavalcade circled the school grounds before parking a respectable distance away.
Principal Olson thought the ride was a "fantastic" experience and a real confidence booster for the student.
"It was a motivational piece," she says. "We share a common goal (with Bikers Against Bullying) and that's to make sure all kids feel accepted and loved. That's what we're here for."
The student's mother had requested the two-wheeled escort to school and Ripley says their aim was to show him support and that strangers do care.
"He is an important kid, just like everyone else," he says of the high school student. "I think that's the main message, pretty simple."
The motorcycle club's motto is "Killing the Spirit of Bullying by Empowering Those in Need" and Ripley says their presence at the school was to let others know the importance of taking a stand against bullying. A couple of members walked the teen to his first class of the day, before departing quietly.
Privacy legislation doesn't allow Olson to comment on Heritage Christian Academy's dealings with this, or any other specific student.  It is Palliser Regional Schools' policy, however, that once bullying concerns are brought to a school's attention, they are taken seriously and dealt with immediately. Supports or interventions follow as needed.
"Our aim is for every student to feel safe and cared for. It is one of our school goals and we work very diligently on it throughout the year in a variety of ways," says Olson.
At Heritage Christian Academy those messages are delivered through daily devotional and word inspirations for students, she says, and character development is offered through family and discipleship groups. In addition to supporting Pink Shirt Day each year, the school brings in anti-bullying speakers.
Ripley acknowledges the school, like others, likely has a no bullying policy in place. Sometimes, however, they can use a little help and that's where Bikers Against Bullying comes in.
"Bullying is a community problem, not a school problem," he says, pointing out his club offers anti-bullying resources to schools. "Too many times the schools get pinpointed; that it's their issue because the kids are here all day."
It's also important to look into the reason students may be exhibiting bullying behaviour, and address any needs in that regard, says Ripley.
Students always come first, and Olson says Heritage Christian Academy works with all of its stakeholders to provide the necessary supports for them.
"We work very hard at that, although we acknowledge there is always room for improvement," she says.