Calgary Christian School floor hockey tournament a win-win for everyone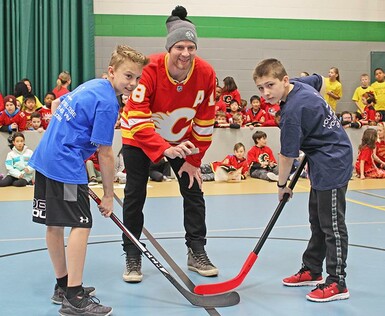 CALGARY – The home team was definitely pumped after its opening-game victory, but Keeson Steinke was quick to point out Calgary Christian School's annual floor hockey tournament is about more than winning.
"It would be great if we did win, but I think it's more about having fun too and getting character," said the assistant captain of the CCS team in between games. "And if there's an opportunity where we are beating the other team, letting them score too."
The annual tournament for Grade 5 and 6 students is a fundraiser, with more than $9,200 going to The Calgary Flames Foundation this year. Since its inception in 1983, that foundation has raised more than $36 million for health and wellness, education, and grassroots sports programming in southern Alberta.
Teacher and organizer, Shauna Gooliaff, said the sense of community the event facilitates is one of the things she's most proud of. That includes the school's own community, and the greater community including the visiting teams and partners who were welcomed to CCS.
Calgary Christian School elementary students "buddy-up "with a specific visiting team to cheer them on throughout the tournament – even if they're playing the home squad – and host those players in their own classroom between games. It also brings in junior high students to serve as ambassadors for the competing teams, which this year included Trinity Christian School, also from Palliser Regional Schools, and teams from the Calgary Catholic school division and Calgary Board of Education.
"It's really good for them to cheer for the other schools because then the other schools don't feel like left out, and we're the only ones people are cheering for, and they feel let down," said Meghan Halford, another Grade 6 member of the CCS team.
Candice Goudie, Executive Director of The Flames Foundation, got the teams to cheer if they liked floor hockey, the Calgary Flames, and finally, helping others. Those cheers grew in strength for each successive question, which should also touch Gooliaff's heart.
"The second thing, which is sort of my deep hope, is that it becomes instilled in kids to give back to a greater cause. You hope it becomes who they are as they continue to get older," she said, after listening to inspiring words from former Calgary Flame and Hockey Hall of Famer Lanny McDonald in the school library.
Another Flame alumni, Matt Stajan, dropped the puck for the opening of the six-team tournament, after he addressed the throng of students. He realized his boyhood dream of suiting up for his hometown Toronto Maple Leafs and went on to play more than 1,000 NHL games before retiring as a member of the Flames in 2019.
There are so many ways to make a difference in this world, Stajan said, and he's most proud of the difference he's been able to make for others in the community. He and wife Katie started the Emerson Stajan Foundation – in honour of their son who passed away shortly after birth – to support charities helping others through difficult times.
Stajan shared several positive messages with the students and staff assembled in the school gym, and told them he had two main things he wants his two children to learn: be a good teammate, and be a good person.
"You can always control how you treat other people, no matter how bad your day is," he said, adding they can also control the amount of work they are willing to put into achieving their dreams.
"If you go every day living by those two things, you are going to gain so much respect from your peers. If you're on a team, you will get so much respect from your teammates, and through that you will become a leader," said Stajan. 
Employing a bundle of pencils, he also demonstrated the strength that comes with working together as a team. The first student he called forward was able to break a single pencil, but once bundled together they proved unbreakable no matter which adult attempted to snap them.
The demonstration and the message attached were provided him by McDonald during an improbable playoff run by the Flames. The thick bundle of pencils represents the number of players, coaches and support staff a team needs commitment from in order to be successful.
"If you play as an individual, there is no way you can win the Stanley Cup, or win a soccer match or win a floor hockey game. But if you play as teammates, it is amazing how strong you become," said McDonald, who passed around three substantial rings he received for winning the Stanley Cup, a Canada Cup and induction into the Hall of Fame.
Those pencils were a rainbow of colours, he added, because "we're all in this together" whatever the colour of our hair, our eyes, or our skin.
"And when we have fun together, and play together, and play hard – regardless of whether you win or lose – at the end of the game, it's such a great game. You shake hands and wait for the next opportunity," said McDonald, whose famous moustache is dwarfed only by his positive aura.
The tournament – which saw Glenmore Christian Academy earn gold, Trinity Christian School silver, and the host Calgary Christian School bronze – also saw players with the Edge School Hockey, and alumni Jordan Parkin, address the students.