Calgary Islamic School students get a charge out of energy fair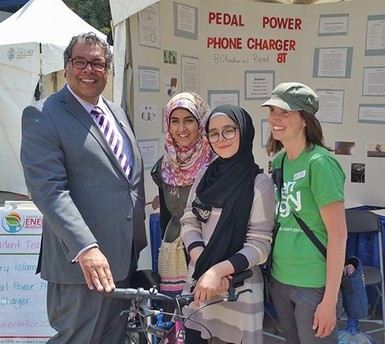 CALGARY – Kawthar Aroua and Rinad Hamid are more than happy to do their part for the environment. If their ingenuity might help others do the same, the Grade 8 students from Calgary Islamic School Omar Bin Al-Khattab Campus would be over the moon with excitement.
Aroua and Hamid won the Student Team Competition at the recent Green Calgary's Energy Revolution Fair. Four teams were selected to design projects highlighting practical applications for renewable energy.
Their entry, a pedal power phone charger, earned the school $1,250 in prize money. Even more exciting for the girls was the $1,500 allowance from the Southern Alberta Institute of Technology to fabricate a prototype of their device.
"A lot of cyclists came up to us and they were like, 'that's a really good idea, and I would buy it if it was properly made," says Aroua. "It would be crazy if it actually became a product."
The pair was invited to compete in the event on the merit of their silver-medal entry in this year's Calgary Youth Science Fair. After Aroua won in Grade 6 and Hamid in Grade 7, they decided to team up for this year's science fair.
The idea for their project was born out of a competitor's entry the year prior, in which the same energy source was used to power LED lights on a bicycle.
"So we thought, 'how can we change that and make it useful in people's everyday life? Everyone is always carrying a phone and trying to save energy," says Hamid, of their pedal power phone charger.
A wrinkle or two in their design resulted in a second-place finish at the science fair. They were confident a few tweaks would improve their odds at the energy fair.
After demonstrating their project for fellow students and other visitors, Aroua and Hamid had to make a three-minute pitch before a panel of industry experts and then answer questions. The entries were then announced in reverse order of their finish, with the fourth-place team taking the stage first.
"When they announced fourth and it wasn't us, I was like I'm happy with third because we're at least getting $450 for our school," says Hamid. "Once they got down to second and then first, we were really surprised."
As for their invention, SAIT will work with them on a design review and hopefully come up with a 3D model of their phone charger. While there are numerous steps between that prototype and a commercially-viable product, the experience is sure to be invaluable for Aroua and Hamid.
So too for the energy fair, which was billed as a "learning extravaganza" for students in the areas of renewable energy and energy efficiency. Held in conjunction with the Mayor's Environment Expo, it featured numerous interactive exhibits and hands-on activities for students to enjoy.
Hamid's favourite thing about the event was being around so many like-minded individuals.
"Lots of people came on the C Train or used Calgary Transit to be more energy efficient. Also the mayor (Naheed Nenshi) coming around was cool. You don't see the mayor all the time," she says.
Kawthar, who "loves talking," particularly enjoyed explaining their project to interested passersby.
Each project in the student competition had to focus on the development of a renewable energy product, technology or service. Neither girl had to be convinced of the importance of 'going green.'
Hamid says her family practices recycling and has also taken advantage of the City of Calgary's composting initiative.
Kawthar's pet peeve is wasting energy, and she makes sure the lights are turned off in empty rooms at home.
"I run into the room and turn it off, and go back to my room," she says. "Even at midnight and my sister goes to the bathroom, I run up to her room, turn the lights off and run back to my room."
While Kawthar has dreams of a career in bio-medical engineering, Hamid wants to pursue her passion for architecture.
Calgary Islamic School Omar Bin Al-Khattab Campus offers a faith-based alternative program within Palliser Regional Schools.