Cardboard boat race tests students' skills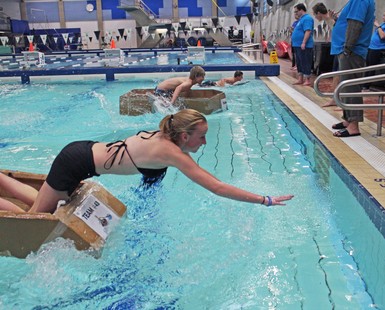 LETHBRIDGE –Team #40 from County Central High School is proof positive some of the best learning opportunities happen when you're not even thinking about them.
The team of Vulcan students Alyssa Tharle, Emily Morse, Lea Labonte and Tayler Ellis recently conquered the waters of the Max Bell Aquatic Centre to win the senior division of the Career Transitions annual Cardboard Boat Race.
The event featured 50 student teams from across southern Alberta battling it out in both a timed race and a weight challenge. Armed only with a design sketch prepared in advance, their watercraft were constructed out of cardboard, tape and a lot of ingenuity in less than two hours.
The educational value for the middle and senior high students included problem solving, teamwork and the practical application of principles including water permeability, buoyancy and displacement, along with structure, strength and rigidity.
What stuck most with Tharle was how much fun she and her County Central teammates had at the University of Lethbridge that day.
"I like this kind of learning because it doesn't seem like learning," said the Grade 11 student of her first-ever cardboard boat race. "You're just kind of doing it and learning as you go. It's not like you have to sit there in a classroom and listen to a teacher."
It wasn't like the team – which was joined by a second, junior division entry from the Palliser school – didn't put a lot of thought into its creation. Its boat featured a strategically-placed, baffle-like device to help keep it afloat.
One thing the supremely confident Tharle never gave a second thought about was the pressure their top finish might place on future County Central teams to top their performance.
"No," she said with grin. "I'm going to come back and win again!"
The 15th annual event featured seven teams of students from four different Palliser Regional Schools. While Team #40 was the only one to walk away with medals or a trophy, all of the students had smiles plastered across their faces poolside.
Team #48 from Picture Butte High School turned many heads as they paraded their craft from the construction area on the gym running track down to the pool. It was Kyle Davies' third shot at the cardboard boat race, and after his team won best decorated for an automobile-themed entry last year, fashion might have won out over function this year.
"We built a plane today and thought we would fly over the water instead of swim across," said the Grade 12 student of their design, which included landing gear and a windshield.
As a crowd of family and friends looked on from the gallery above, however, the flight of Team #48 didn't extend much further than the runway before it took a nose dive.
"The structure didn't hold up," summed up Davies, with a shrug of his shoulders.
Also entering a pair of teams was Champion School. Merissah Nichols decided to compete for the first time after seeing her sister involved previously. The biggest challenge, she said, was coming up with the design.
"It took a long time because we didn't know what to do, what would float, what would sink, or what would go fast," said Nichols.
Team #1 did know what they wanted it to look like – a shark, complete with fins and the appropriate face. Although her team did manage to get across the pool, their boat was in no shape to make the weight challenge, a common theme among teams.
Henry Giesbrecht and teammates were the lone representatives from Carmangay Outreach School. That didn't temper the Grade 9's expectations.
"To come out and win the show," he said of the expectations of Team #35.
Unfortunately, the Carmangay team joined numerous others which had to drag, rather than paddle, their boats to the other end of the pool. Giesbrecht's favourite part of the event?
"Swimming?" he offered up, with a smile.
For information on Chinook Regional Foundation for Career Transitions and the cardboard boat race, including a video of this year's event, go to http://careersteps.ca/BoatRace.php