Coalhurst High students ready to make a difference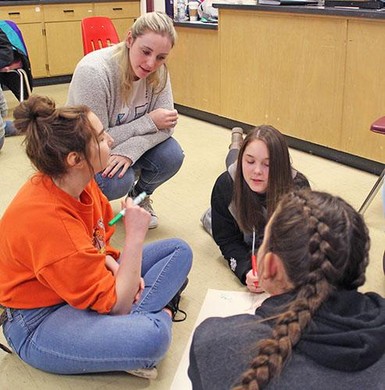 COALHURST – As Taylor Payne can attest, wanting to help and knowing how to go about it can be two very different things.
The Coalhurst High School student found some direction in a recent workshop organized by the WE Volunteer Now campaign, which helps teens realize they can make a difference locally and globally.
"If I could make that actually happen, that would be better than me just thinking, 'Oh I should probably change this' but not really knowing how," says Payne. "This teaches you how you could do it."
The enthusiasm shown by the Grade 8 student and her schoolmates in the workshop should put to rest talk that today's teens are self-absorbed and indifferent, says Shelby Dorfman. Sometimes they just need to find something to be passionate about and a platform to share their voice, says the motivational speaker and leadership facilitator with the WE movement.
Carly Archibald says the day definitely "sparked a fire" in her.
"It makes me want to go out and do something," says the Grade 10 student. "Not just sit at home and watch Netflix, but spend my time doing something more useful."
The Coalhurst High School stop was among 20 that Dorfman and colleague Frankie Garnons Williams will make as part of the WE Volunteer Now speaking tour, sponsored by Cineplex. Teacher Nicole Swen jumped at the opportunity for the school's fledgling WE Create Change group to gain some momentum.
This past fall a handful of junior high students from Coalhurst attended their first WE Day celebration, thanks to tickets made available to them through Kate Andrews High School in Coaldale. Swen's aim is for the CHS group to earn its own tickets this year and find its own voice.
"I want them to unite behind a cause and feel like they can promote change," she says. "These kids are pretty incredible. I think they can do great things."
Dorfman and Garnons Williams began the day with a school-wide assembly to talk about volunteerism, encourage students to make a positive difference, and emphasize that even the smallest of actions can have a significant impact.
They followed up with a workshop for 19 students chosen for their past volunteer work. Through a variety of hands-on exercises those junior and senior high students gained a greater perspective about some of the local and global issues they might tackle.
"I knew there was poverty but didn't know how bad it was until we did this activity," says Payne. "I just couldn't imagine anything that they are going through."
The students were also provided with the tools to come up with an action plan for an event of their choosing to raise funds and awareness for their particular cause.
"We're not here to tell them what to care about or tell them what to do. We're here because we want to empower young people to make a difference," says Dorfman. "The whole thing about empowerment is making them feel like they have the choice and they have the voice to make that difference."
The students were also provided with other resources they might find helpful in carrying out an event and program managers from WE will follow-up with ongoing support.
Swen says work done by the school's WE Create Change group this year has focused on community involvement. Both school and the larger community are stronger when working together, she says.
Archibald agrees it's much easier to bring about change when you are part of the community and know what the issues are.
"You want it to be a place you want to live," she says.
For more information on the WE Volunteer Now program, go to https://goo.gl/Zh11qK