Community celebrated on opening day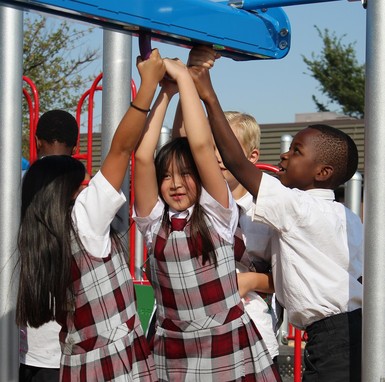 CALGARY – It was billed as a playground dedication and ribbon cutting, but the Back2School event at Heritage Christian Academy was much bigger than that. The opening day of the new school year was a celebration of community.
The day brought together students, staff, family and various community partners to celebrate the fruition of two years of planning, fundraising and physical labour.
Principal Leslie Olson said the playground build, which replaced a structure dating back to 2000, would not have been possible without the support of the entire community.
"This school is a place of community," she said. "It's just a big family and we work together for the betterment of the kids."
When something is dedicated, it is set apart for a particular reason, said Olson, a teacher at Heritage Christian Academy (HCA) since 2007, a vice-principal for three years, and now in her second full year as principal.
The purpose of the new playground is joy – brought through physical activity – and the building of relationships, she said, which includes the friendships formed by students playing side-by-side. The build also brought together staff, more than 100 volunteers and countless community-minded businesses and organizations.
The fundraising goal of $172,000 was reached through donations of almost $84,000 and grants of $32,000 from the likes of the Calgary Foundation, Parks Foundation Calgary and Calgary Real Estate Board Charitable Foundation. School fundraisers included everything from bake sales to dunk tanks and spell-a-thons.
Five companies also donated food to nourish those who came together for four, very warm days in July to "lift, carry, bolt, drill and shovel, all wrapped up with an attitude of joy."
"It's huge and this, being our first day out here, you can see the kids haven't left it yet," said Olson of the beehive of activity on the playground behind her. "It's just such an exciting thing to know they are playing on safe equipment, that it's updated and there's years of fun ahead."
The old playground structure was taken down and donated to a foundation which will refurbish such and send it to an area of the world where children wouldn't otherwise have such places to play.
Palliser Regional Schools was represented by former Heritage Christian Academy principal, Ryan Brennan, fellow Director of Learning, Jason Kupery, and trustee Don Zech. Kupery noted the importance of play in the learning process, while Zech commented on the "phenomenal" growth he has seen at the school over the last decade.
The first day of school at Heritage Christian Academy also included tours for special guests and, once again, a Food Truck Frenzy. Staff, students and their families lined up for freshly squeezed lemonade, deep fried potato treats, barbecued meats and various sweets at the mobile restaurants set up in the school parking lot.
Olson said the addition of food trucks on opening day has been well received the past few years. It proved a winning combination when paired with the playground opening the first day of school.
"What can you like more than that? Food and fun," said Olson, who praised the Heritage Christian Education Society Calgary for its role in the day.
Heritage Christian Academy is a kindergarten to Grade 12 school in northeast Calgary with an enrolment of about 600 students.