Early Christmas for PBHS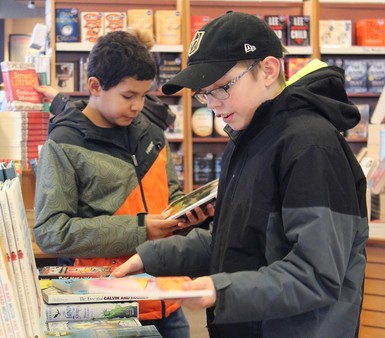 LETHBRIDGE – The thought of giving teenagers free rein in any retail establishment might induce a case of the shivers in many adults.
The sight of 30 Picture Butte High School (PBHS) students pulling books off the shelves at Chapters, however, warmed the heart of Cherie Secrist.
The school librarian was among staff watching over a $3,000-shopping spree, thanks to donations raised through the Indigo Love of Reading Foundation. Although the Grade 7-12 students selected for the task were among the most avid readers at PBHS, Secrist hopes their purchases will create a buzz among their classmates.
"It's (the announcement over the school intercom) 'will all the kids going to Chapters please come down now,' and all the other kids are running down saying 'how come you get to go?' " she said of the hallway conversations earlier that day. "And they're telling them: 'Because I read. Maybe you should read some more.' "
The only instruction students were provided with in advance was to pick out books they'd like to read themselves. Duplicates were permitted, if the book was among those that seem to fly off the library shelves.
"I was just looking for the series that our school had that weren't completed; ones I've already started and I wanted to finish," said Grade 10 student Lorelei Koch, who picked out books from the "I am Number Four" and "Steelheart" series.
Angie Wiebe had a similar strategy. The Grade 9 student appreciated the fact they weren't handcuffed by the type of purchases they could make.
"I thought it was cool you got to choose what you thought you would like, and other people would like for your class, instead of having the teacher decide," said the Grade 9 student, who likes the release that reading provides her. "You don't think about anything else when you're reading. You kind of just get lost in the book; and it's really just fun to read."
Despite the students' best efforts – and thanks to a healthy discount offered by Chapters – there was still money left over at the end of the shopping trip for future purchases of classroom sets of novels.
The money to replenish the school library was raised through donations by staff, parents and community members, both online and in-store. Through the promotion Indigo has provided more than $25 million to some 3,000 schools in an effort to inspire a love of reading in children.
Teacher Mark Ogle spearheaded the project at PBHS. His initial goal was to raise $2,000, which would represent one book for every student, but that mark was topped half way through the three-week campaign.
He said the bolstered school library will have a definite impact on his students.
"The more options we can offer to kids, the more engaged readers we will have," said Ogle, who thanked Indigo, everyone who donated, and the helpful staff at Chapters.