FIre Academy offers students unique opportunity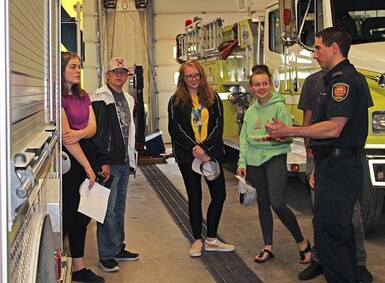 COALDALE – A new school year always brings with it a certain air of excitement. For many of those involved in the Kate Andrews Fire Academy, however, the anticipation may be greater than usual.
The course – being offered for the first time in Palliser Regional Schools this fall – provides high school students Medical First Responder certification the first year, and National Fire Protection Association certification the second year.
Dillon Sturgeon is among those students eager to take advantage of the opportunity.
"This is going to be awesome, I can't wait," said the Kate Andrews High School student of his reaction upong learning the fire academy program was being offered. "I am so going to join this and do my best because I really want to become a firefighter."
His interest in the career was sparked during a first aid course offered by Coaldale firefighters as part of Palliser's Experiential Learning Week in his Grade 10 year. A tour of the fire hall and a turn on the 'Jaws of Life' further convinced him.
"I like working with people and helping others," said Sturgeon, who is in Grade 12 this year. "Having that adrenalin rush and trying to save someone's life; I thought this is going to be something for me."
Instructing the fire academy program are firefighters with Coaldale & District Emergency Services, including Chief Kevin McKeown. What he looks most forward to is where the course takes students.
"Whether it be going to paramedic school, nursing, furthering their firefighting education or volunteering with us in Coaldale, there will be a sense of pride that we played a part in their education and career development," he said. 
The number of off-campus opportunities Palliser offers has increased dramatically over the past couple of years, including the introduction this year of bio-engineering through the University of Lethbridge, and unit clerk training at Lethbridge College.
The Kate Andrews Fire Academy, however, does hold a special significance for Jason Kupery, Director of Learning with Palliser Regional Schools.
"I'm excited about this one in the sense it is a community partnership and we are very thankful for our partners in the Town of Coaldale who have come on side and have been very supportive," he said.
Kupery hopes the trend continues, as partnerships are especially important in Palliser's rural schools.
"It is difficult in some of these communities to make sure students can actually access a college or a program, so we are trying to open avenues for them. And one of the ways we can do that is partnerships with local communities," he said.
The fire academy program is not exclusive to Kate Andrews High School students. Enrolment was open to others across Palliser, as well as neighbouring Horizon School Division, and the initial class of a dozen includes high school students from Picture Butte, Coalhurst and Vulcan.
Grade 11 student Merissah Nichols signed up for the program after a presentation provided at County Central High School.
"I always wanted to be a paramedic. When I saw this I thought it was a really good way to get a head start in it, and it would be more fun than just doing regular school," she said.
The fact Nichols believes it is worth making the drive from Vulcan to Coaldale is not lost on Kupery. He said it's important students enrolling in such courses truly want to learn and be engaged.
"That is what our off-campus program is about, helping kids connect with passions," he said. "If that isn't the most convenient passion, that's great, because that means that someone is going to have to work to get there and that means it is going to be worth more to them."
While McKeown said it's important to make the material engaging and interesting, he told students during a program orientation there is a certain commitment expected. It would be a mistake to think the fire academy is an easy way to gain credits.
"It will take hard work and dedication to be successful in this academy," said McKeown. "However, as long as the students show up with the right attitude and a willingness to learn and work as a team, they should have no problem being successful."
The prospect of putting in extra time outside of class didn't scare off Sturgeon.
"It's something that's going to be hard for me, but I know I can do it if I push myself," he said after the program orientation.
Expansion of the Coaldale fire hall and the resulting space to provide the program was a factor in it becoming a reality this year. The continuing renovations will mean the medical first responder component will be held at KAHS this year. McKeown looks forward to the fire hall space being available next year.
"I think it will add a bit more realism for the students to actually be in the hall and have the opportunity to see what it's like day-to-day in a working fire hall setting," he said.
Palliser Regional Schools developed partnerships with six, new post-secondary institutions this past year and is now working with five neighbouring school divisions to offer more than 35 off-campus courses. Career areas being further examined include aviation and agriculture.
As for the future of such programming, Kupery said it is dependent on continued government support. The demand is certainly there from the students' standpoint.
"We want to provide students with as much choice as possible. I don't believe (off-campus programs) are going to replace the traditional school, but it can certainly supplement and further a child's education," he said. IMAGES
See more on Palliser's off-campus programming at http://bit.ly/33U85wx