Kate Andrews High staff surprise Class of 2020 valedictorian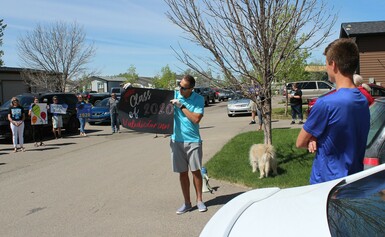 COALDALE – The next time Owen Gallagher is asked to mow the lawn, you can't blame him if his expectations seem a tad bit high.
A ploy to surprise the 17-year-old with the announcement he's the Class of 2020 Valedictorian for Kate Andrews High School worked to perfection.
"Completely, I had no idea," said Owen of the ruse. "Because I live out of town my mom told me I should go cut my grandma's grass for her. We were all going to stay in town for a while and have some pizza for lunch."
He heard sirens over the growl of the lawnmower and was brought out front to be greeted by some two dozen KAHS staff members in their vehicles, as they followed fire trucks and police cars with emergency lights flashing through the quiet neighbourhood.
Owen's first thought was the parade was just making one of many stops past the homes of all his fellow graduands, until Principal Daniel Grimes informed him otherwise with a message delivered distantly with the help of a megaphone.
While Owen knew he was in the running for top marks among his graduating class, he hadn't heard anything from the school and the prospect wasn't foremost on his mind.
"I just finished my calculus course two days ago, so I'm finally just getting a chance to relax a little; less school work to do," he said, adding he'd never even finished top three in his grade until last year. "This is just really cool."
Owen's valedictorian speech will be recorded and downloaded onto a flash drive along with messages from staff to the graduating class and a special slideshow.
On June 19 the grads and limited guests will proceed to the KAHS gym in small groups over a staggered schedule, in accordance with social distancing. They will receive a gift bag with flash drive, their diploma, pose for photographs and then pick up a pre-ordered, catered-meal curbside.
"What I picture is you take all your stuff home, you watch the video while you eat your meal, and it's kind of as close as you can get to an actual grad," said Kim Alexander, a member of the school's grad committee.
With the COVID-19 pandemic keeping students and staff physically distant, traditional graduation activities across Palliser Regional Schools have had to be altered.
Such was the case with the announcement of this year's valedictorian at Kate Andrews. In the past the student has been called down to the office and informed of the honour before returning to class and sharing the news with classmates and the rest of the school.
Alexander said they didn't think an emailed announcement carried the same weight, and so the planning began for the drive-by parade, complete with staff waving congratulatory signs and celebratory music blaring over a portable loudspeaker. Firefighters and law enforcement personnel were quick to add their support.
While Owen was thrilled with the surprise announcement, he admits the lack of a traditional grad and all the associated events is disappointing.
"Honestly, it's just kind of surreal still. I knew we wouldn't be having grad since March, but I haven't really thought about. I just tried to stay focused on school and get everything done and then see what happens when it's all over," he said.
For Owen, that means attending the Engineering program at the University of British Columbia-Okanagan Campus in the fall, assuming student residence is open then.