Kate Andrews' shop gets big boost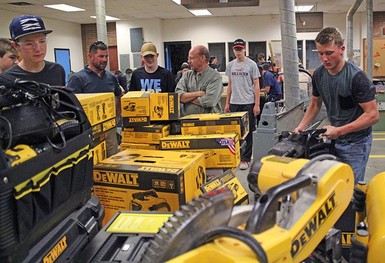 COALDALE – What does it take to make a teenage boy long for another year of high school? Tens of thousands of dollars in new construction tools is apparently a start.
Kate Andrews High School was one of five successful applicants for the 2018 Stanley & DeWALT Tool Enhancement Grant. As a result, its Career and Technology Studies shop is now home to more than $20,000 worth of tools which had been supplied for use in the recent Skills Canada Nationals in Edmonton.
Daniel Griffith, the construction/fabrication teacher who applied for the grant, admits there were mixed emotions after Kate Andrews first announced their good fortune to staff and students.
"The Grade 12s are depressed that they don't get to use the tools, and the Grade 9s, 10s and 11s are looking forward to putting them to good use," he said.
Griffith told students he was "giddy" when he pulled up in Edmonton to pick up the tools. Since he hadn't time to do inventory when everything was being loaded, Griffith was even more thrilled as students started to unpack the cargo van, supplied by Palliser Regional Schools.
"Look, there's a biscuit joiner," he pointed out, as the woodworking tool was stacked on a growing pile.
"I've been wanting one of those for years!" replied fellow construction/fabrication teacher Rod Horlacher, who hadn't seen so many new tools in his 35 years combined at Kate Andrews High School. "Sixty-volt lithium ion. Oh my God," he whispered as another power tool passed by.
The school's haul included everything from circular saws to impact drills, and sanders to shop vacuums. Most were "like new," after being used for only a day or two at the national high school Skills competition. Others hadn't been required for the task at hand, and came sealed in their original boxes.
Although the grant offered tool packages of at least $10,000 in value, Griffith was told the school's share was actually worth more than $20,000. While some of those tools will allow students to be more accurate in their projects, the biggest benefit is they'll be better prepared for the workplace.
"It means that this is what they are going to see in the real world. If you have a business, this is what you are going to have. If you work for somebody, this is what they are going to have for you to use," he said.
In applying for the 2018 Stanley & DeWALT Tool Enhancement Grant, Griffith noted Kate Andrews High School has been a proud supporter of the Skills competition since 2001-2002, and students have competed and shown well at the regional, provincial and national levels.
While the school has a budget to supplement its CTS program, he added it doesn't have money to refurbish its supply of tools with the newest ones out on the market.
"Hopefully we're not just making do anymore," said Griffith, adding the influx of new tools should invigorate the shop program and hopefully create some excitement that might spill over to students not previously involved.
He expressed gratitude not only to Stanley and DeWALT for their generosity, but also to Skills Canada for taking on the immense task of providing students with an opportunity to test themselves in the areas of trades and technology, meet new friends and receive possible career direction.