Literacy more than a buzz word at Palliser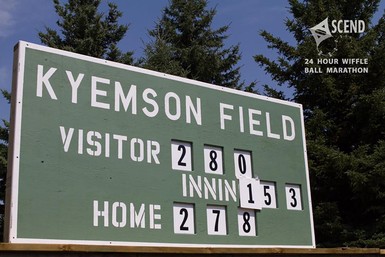 Not only is literacy the focus at Palliser Regional Schools, its staff members fly the flag year-round.
Five Palliser employees pitched in recently to make the first-ever, 24-Hour Wiffle Ball Marathon a reality. In the process they helped raise some $50,000 for ASCEND, a charitable organization which is among the supporters of an upcoming event designed to improve the literacy skills – and the future – of immigrant women in the Calgary area.
Joining ASCEND (an acronym for the Alex Schaap Charity to Educate and Nurture Development) in supporting the English Language and Computer Literacy Program, are the Calgary Immigrant Education Society, the City of Calgary and the Calgary Immigrant Women's Association.
That initiative will be held Aug. 8-11 at Calgary Islamic School Omar Bin Al-Khattab Campus, with more than two dozen immigrant women to receive instruction in English language literacy. Their digital literacy needs will also be addressed at the Palliser school over that time span, as they'll learn how to access a variety of online resources.
Alex Schaap was a former Calgary Christian School student, and then parent, who was killed in a car crash in 2009. The mandate of the charity which bears his name is to improve the lives of families by supporting their technical needs. It also provides scholarships for high school students pursuing post-secondary studies related to technology.
The board chair of ASCEND is Jason Kupery. The former principal of Calgary Christian Secondary School and one of Schaap's friends, is also a director of learning at Palliser Regional Schools.
The wiffle ball fundraiser wouldn't have been possible without the help of yet another Palliser connection, and ASCEND board member, Chris Reitsma. The former Major League Baseball player is not only a member of the Palliser Wall of Fame, his wife Janelle is a Palliser teacher, and their three children attend school in the Palliser system.
Not only did Reitsma host the game at his unique ballpark northwest of Cochrane, he invited former major leaguers Jeff Francis, Mike Johnson and Adam Stern to join the roster. Each team consisted of 10 players who met fundraising goals, including Kupery and fellow Palliser employees Jadan Barthel, Shauna Gooliaff, Mark Jonker and Ann Kilbreath.
Baseball Canada supplied caps and shirts for the two wiffle ball squads, with Team Red captained by Kupery and Team Black by Reitsma. For those keeping score, after 24 hours and 153 innings, Team Red squeezed out a 280-278 victory.
Reitsma's involvement also attracted the attention of Sportsnet. To coincide with Canada Baseball Day, the television network featured interviews and action from the wiffle ball marathon prior to coverage of the Toronto Blue Jays game on July 30.
To view some of the related Sportsnet coverage, go to http://www.sportsnet.ca/baseball/mlb/reitsma-put-together-field-dreams-charity/
For more information on ASCEND, go to http://www.ascendcharity.ca