New technology greets Palliser students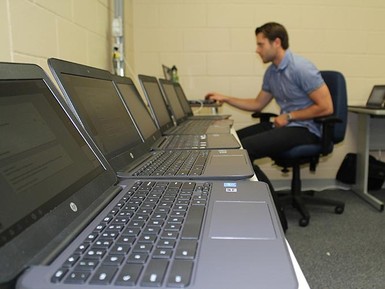 A new school year brings with it many changes, including new faces, new friends and perhaps even some new back-to-school clothes.
For thousands of students and staff at Palliser Regional Schools, the 2018-19 school year also ushers in new technology and the many advantages that come with it.
Palliser purchased 1,400 new Google Chromebook laptops and, with the help of summer students, set up the computers and then shipped them out to schools for the beginning of the new school year.
"The goal is to enhance the learning environment for our students and enhance accessibility to resources and information," says Tom Hamer, Associate Superintendent, Learning Services.
Plans call for another 1,400 Chromebooks to be added to the inventory next summer, bringing Palliser up to a ratio of one device for every two students from kindergarten through to Grade 12.
Hamer says that ratio seems to be the "sweet spot," and argues there's a potential downside to providing each and every student with their own device. Students aren't properly served by sitting them in front of a computer all day.
"That is one of the things we want to make sure, that there is a balance between multiple learning styles," he says. "Yes, there is learning in a digital world and that Chromebooks are a great interface for that. But kids also need to learn through other means as well. They need to be physically active and experience outdoor activities as well."
Nor should technology replace the teacher. Part of what teachers do is prepare students for life in the world outside of school, says Hamer, and to do this they need to learn interpersonal skills that come through human interaction.
"One thing technology does is allow a teacher to spend more time on building relationships, rather than having them hand out pencils or photocopy material," he says.
Palliser also addressed the other side of that equation, and made Chromebooks available to every teacher. When Hamer first took over the technology portfolio four years ago he says some teachers may not have fully embraced the devices. Too often those computers were out of date and there weren't enough of them to guarantee a student could start and finish a project entirely in a digital environment.
"The feedback we have been getting is that this has really kick-started purposeful computer use in classrooms," says Hamer.
Every teacher, he believes, can find ways to integrate technology into their lessons. It's just a question of their comfort level, and Palliser wants to ensure teachers receive the support needed to nudge their practice into a "more seamless" use of technology.
While the Chromebooks are set up with safety measures to limit access to inappropriate material, Hamer says lessons in digital citizenship for students are just as important and teachers play a very important role in this.
"The unfiltered Internet that kids have access to when they are given a cell phone is far more worrisome. From an educational perspective, we need to teach kids what is safe and what is not," he says, adding it's more beneficial and purposeful when teachers are teaching critical thinking in this regard.
Almost 2,000 new computers have been added this school year, including upgraded computers for administrative assistants at Palliser schools. Most recently Palliser has typically purchased between 400 and 500 devices a year.
Hamer adds plans are in place for scheduled and timelier replacement of technology within Palliser moving forward.