Noble Central School celebrates Pink Shirt Day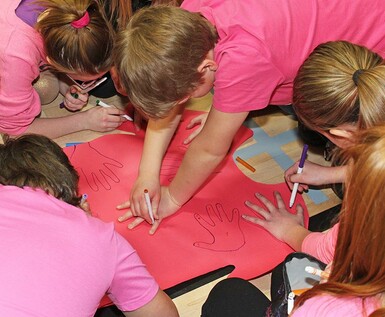 NOBLEFORD – The message of Pink Shirt Day came through loud and clear for students at Noble Central School. They were reminded, however, their actions need to be consistent with that message for more than just a day each year.
"Some kids live with (bullying) every day," teacher Tracy Dorchak told students during a Pink Shirt Day assembly. "Be very careful about your words and what you say – especially in social media, where you're not face-to-face – and try to keep that in your heart day-to-day."
The student leadership team at Noble Central School was tasked with putting together an assembly to promote Pink Shirt Day. They created a presentation on what the day is about, talked about what students can do if they see someone being bullied, and then led a fun activity to illustrate how simple that can be.
"The whole goal of today was – especially for the elementary students – to raise awareness that bullying is an issue," said Grade 12 student Morgan Phillips, a member of the leadership team. "And if they see one of their friends being bullied, that they should stand up and do something."
Students were also encouraged to spread kindness on a daily basis. With 'national compliment day' being celebrated the next day, each Grade gathered together to write compliments on a large, pink cut-out of a T-shirt.
"It can be something that simple," said Phillips of the merits of a few kind words.
The message of Pink Shirt Day hit close to home for Lindsay Van Vliet.
"Hurtful names and stuff, I know what it is like to go through that," said the Grade 9 student, who is also on the leadership team. "So I try to do everything I can to make other people not have to go through that. It always hurts me when I see someone else sad."
Students were reminded that it only takes one person to stand up to a bully and were encouraged to be a voice for those being bullied.
Van Vliet got through those difficult times with the help of family and the realization that she wasn't alone. She likes to put up posters around the school now to motivate others to feel good about themselves.
Scheduled for later that night at Noble Central School was the 'Just Dance' Family Fitness Night. Those attending were also encouraged to wear pink in support of anti-bullying efforts.
Teacher Kennedy Carpenter, who leads the monthly fitness night and works with the student leadership team, said the connection with Pink Shirt Day seemed a natural. She pointed out bullying is not a school issue but a community one, and everyone's support is needed.