Noble Central students win Biker Build-Off challenge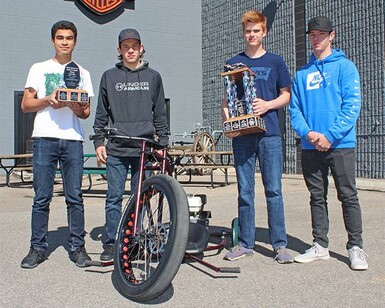 Four Noble Central School students have made history, as the final team to have their names inscribed on the Palliser Regional Schools Biker Build-Off Challenge trophy.
The challenge, in its 10th and final year, saw the Nobleford team of Ethan Feenstra, Nathan Harrington, Jamin Liriano and Tyson Van Der Weilen score top marks against an entry from Coalhurst High School. The team won the Challenge trophy, as voted on by staff at Crowsnest Trail Harley-Davidson, as well as the People's Choice Award, with votes cast by customers visiting the Lethbridge motorcycle dealership.
Students have the option of taking the Career and Technology Studies (CTS) course and build a bike of their choice from scratch in the span of a semester. The winning team put in more than 60 hours of work on their creation, including class time in the CTS mobile trailer and time spent after school. All entries must be complete and rideable.
While the Coalhurst High School team built a chopper, the Noble Central entry decided on a drift bike, which marries the back end of a go-cart with the front end of a motorcycle. The rear wheels of the trikes are covered with PVC sleeves to let the back end slide, or drift, around corners.
The challenge teaches students welding and metal fabrication skills, teamwork, problem-solving and more. It also provides them with exposure to a possible career choice and workplace safety skills.
The Biker Build-Off Challenge was a labour of passion for Palliser CTS instructor Ken Sanderson. He decided the 10th edition of the competition would be an appropriate occasion to bring it to a close.