OBK student honoured for essay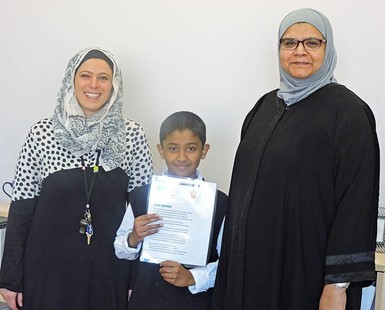 'Home' means a variety of things to many people. For Abdur Rahman, his interpretation meant some national recognition.
The Grade 5 student at Calgary Islamic School Omar Bin Al-Khattab Campus was one of 18 semi-finalists from across the country in the 'Meaning of Home' contest. The competition, sponsored by Genworth Canada, invites Grades 4, 5 and 6 students from across Canada to submit a written essay about what home means to them.
There were more than 7,000 entries, and with Genworth donating $10 for each entry received, Habitat for Humanity benefitted greatly. Since inception in 2007, the Meaning of Home Contest has raised more than $1 million in support for the non-profit organization, which builds home for – and with – the needy. Habitat has used the money to build more than 30 homes across Canada during that span.
Following is Abdur's submission:
OUR HOMES
"When we think of our home it always seem to make us smile,
For it really is a part of what makes our life worthwhile.
It is where we can find comfort at the end of a long day,
It's the welcome sight that greets us, when we have been away.
It's the familiar sounds that lull us to sleep at night.
The way the sun streams through the window to glow of the porch light.
It's the smell of cookies baking, the cheerful doorbell chime.
The holidays that come and go and help us measure time.
Our home is our safe haven, a place where we find hope,
Somewhere we gather strength when it's difficult to cope,
It's a place of joyous laughter and sometimes one of tears.
A treasure chest of memories collected through the years.
But what makes home such a special place.
Is the enduring love we share here as a family,
So wherever life may take us, whatever future that fate charts.
This home will be forever, dwelling deep within our hearts."
The winner of the contest got to direct a $50,000-grant from Genworth Canada to a Habitat build of their choice. Eleven runners-up will also each receive a $5,000 grant towards the Habitat for Humanity project of their choice.
Abdur received an inukshuk, a traditional Inuit sculpture, for his efforts.