Olympian offers path to success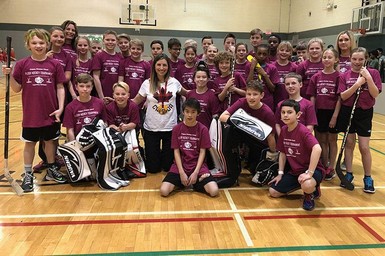 CALGARY – Long-term goals are important, but children living very much in the moment would be well-served to focus on the journey and each small step forward.
That's the message Olympic medalist Chandra Crawford hopes students took away from her visit to Calgary Christian School's Elementary Campus for its annual floor hockey fundraiser.
Making a goal of continued improvement and focusing on things within your control are the basis of the "better than yesterday" philosophy, she says, and the best way to succeed in the long run.
"What am I doing right now, in the present moment, to make myself better than yesterday?" poses Crawford, a former member of the national cross-country ski team. "Maybe that's responding to challenges with a better attitude, because sometimes you're going to take two steps forward and one back, and part of the process is making mistakes."
Perhaps, somewhat modestly, Crawford calls her gold medal in the free spring event at the 2006 Olympic Winter Games in Turin – just a week after her first World Cup medal – a "crazy miracle."
After checking with leading sports psychologist and her younger sister Rosanna, a biathlete who just competed in her third Olympics in South Korea, she believes focusing on the process is a "game-changer mindset."
Crawford was at CCS to drop the puck for the opening faceoff and provide inspirational words to all 150 players from the six elementary schools participating. She does have a special place in her heart, however, for those girls competing.
Growing up in Crawford had a lot of positive female role models in members of the national cross-country ski team, who were training in her hometown of Canmore. Particularly inspiring was Becky Scott, who won Canada's first-ever Olympic medal in cross country skiing at Salt Lake City in 2002.
As she made her swift climb up the cross-country skiing ranks herself, Crawford decided she wanted to help the next generation of athletes.
"I thought I should pay this forward to the next group of young athletes and that's when I learned girls quit sports so much more than boys, and I couldn't find a lot of young girls to share the journey with," she says. "I was so disheartened."
In 2005 Crawford founded Fast and Female, a not-for-profit organization with a mission of keeping girls healthy, happy and active in sports through their teens. Her Olympic victory the following year helped fan the flames of the movement, which now touches the lives of more than 3,000 girls annually thanks to more than 250 athlete ambassadors and sports experts.
Fast and Female introduces girls to inspiring athlete role models and hosts fun-filled, non-competitive events across North America. While the girls are involved in physical activity, their parents get to hear from sports psychologists and experts in adolescent development.
Crawford points to a study which shows girls drop out of sports in their early teens at six times the rate of boys. With a lack of social belonging ranking tops among their reasons for quitting, it's crucial to emphasize the value of leadership, life skills and resiliency building that sport offers.
Adults can create a positive, empowering environment in sports by focusing on social belonging before performance, says Crawford, adding little things like spirit gear, fist bumps and team dinners mean more than some might think.
Neither should the value of sports be overlooked. That same study also found there was an economic boost by seven per cent for girls who played sports through their teens, and 94 per cent of the top female senior executives have some sort of sports background.
"We will all stop our organized activities at some point, but whether my daughter goes another year, another month or another week, going out for those practices and gaining all those skills is really valuable," says Crawford, who has a daughter under the age of two.
For the second year in a row, funds raised through Calgary Christian's floor hockey tournament will go to the WinSport Newcomers program. The goal is to help those new to Canada better integrate into the community by introducing them to winter sport including skating, skiing and snowboarding.
Calgary Christian School raised almost $10,000 last year, which was doubled through matching donations. WinSport representatives visited the school earlier to let students and staff know the impact of their efforts. John Francis says $80,000 was raised in the program's first year with 65 newcomers already introduced to winter sports, and expectations of helping out nearly 300 by winter's end.
He applauded the school's concerted efforts to welcome and cheer on all students participating in the floor hockey tournament.
"We welcome diversity and new people, but sometimes it is hard when you are new and not sure how you fit in," says Francis, who was joined in the visit by former National Hockey League player Brian McGrattan. "Imagine when you come to a new country and they speak a different language and it's cold in the winter. We all have a part to play in welcoming those people to our community."