Palliser and Town of Coaldale ready for design phase of project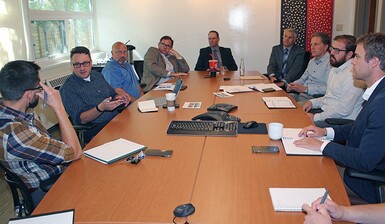 COALDALE – Funding has not yet been approved for a new school, but Palliser Regional Schools and the Town of Coaldale have hired a consulting team to carry out the next phase in a project which proposes a combined high school and recreation facility.
The Town of Coaldale is ready to proceed with its recreation facility and it is critical that its design is conducive to the potential addition of a school building to maintain all the efficiencies possible, such as shared mechanical and electrical systems.
"Palliser, in order to be efficient, is continuing the design phase even though we have not yet been approved for funding," says Dave Driscoll, Superintendent of Palliser Regional Schools. "We are hopeful that sometime in the near future we are, but in the meantime, we want to make sure our partnership will meet the needs of all parties for many years to come."
The consulting team will be headed by FWBA Architects and the design work on a combined school and recreation facility could take up to nine months to complete. There will be an opportunity for further stakeholder input on the school design during this phase.
"We're excited to kick off the preliminary design phase of this project, and look forward to gathering the community's input about what goes inside the new facility," says Kalen Hastings, Chief Administrative Officer of the Town of Coaldale. "The joint high school and multi-use recreation facility will be a long-standing asset to our community. It will build capacity and greatly enhance our recreational opportunities and ability to host large events. We want to make sure that we get it right."
Over the course of September and October, the Town of Coaldale will be working with the Sport & Recreation Working Group to meet with Coaldale's user groups and organizations. The intention of these meetings will be to discuss and brainstorm the potential amenities that may be desired in the new facility. To conclude these efforts, the Town will be holding a series of engagement sessions with the public in October and November to provide opportunities for further input and dialogue around the features of the new facility. The final dates, times, and locations will be announced in the coming weeks.
Palliser Regional Schools' administration, staff, students and parents were joined by town, county and provincial government representatives in 2018 to come up with a solution to Coaldale's future educational needs.
The preferred option, dubbed the "Coaldale Solution," would result in grade reconfiguration at all three of Palliser's schools in Coaldale and construction of a new Grade 7-12 high school. When the Town of Coaldale offered land adjacent to where it will build a recreation facility, that proposal was submitted to the province for funding.
Although the province has not announced funding for any new school projects since that time, some resources have been made available to Palliser to allow for the pre-planning phase. The Town's portion of the project, however, is fully funded.
The prime consultants in the design phase were selected by both Palliser Regional Schools and Town of Coaldale representatives, who jointly reviewed the 11 proposals submitted. FWBA Architects has worked with numerous school divisions in the area.