Palliser announces new principal for Calgary Christian Secondary School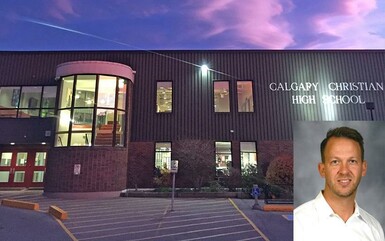 We are pleased to announce that Jadan Barthel has been appointed to the role of Principal for Calgary Christian Secondary School commencing Aug. 19, 2019.
Jadan earned his Bachelor of Arts degree from Calvin College in Grand Rapids, Mich. in 2006 with majors in mathematics and physical education. He is pursuing his Master's degree in educational neuroscience and comparative mathematics at the University of Calgary
Jadan has spent his entire career in education at Calgary Christian Secondary School, serving as a teacher there for nine years beginning in 2006. Jadan was appointed to the role of Vice-Principal in 2015.
As a Vice-Principal for the last four years Jadan says he was able to develop relationships not only in his own building, but across Palliser Regional Schools with people who have a lot of wisdom when it comes to the profession of teaching.
"I would say what has set me up the most for the position of Principal is just learning from some of the best; doing a lot of listening and also benefitting from the encouragement I received from these people and their willingness to put me in positions where I would learn myself," he says.
His familiarity with Calgary Christian Secondary School should help him get off to a running start in his new position.
"I think relationships matter most in this work and so, whether those be with our students or current staff members, those are always going to be my starting point," says the native of Red Deer. "For me to have some of those established already is going to be a strength that I think I can leverage."
As for his leadership philosophy, Jadan believes leaders are only as good as those around them. It's not only students, but teachers too, who want somewhere to belong to, he adds.
"I think you need to create a space where people feel like they are contributing to something greater than themselves, and to be connected to that vision," says Jadan
His time at Calgary Christian Secondary School has also allowed him insight as to some priorities moving forward. The school has to compete with others in the market and that includes some large high schools which may look particularly attractive to students at first glance.
"That would be my hope as principal. Let's get back to what our story is, let's tell that well and let's be something that you can't get anywhere else," he says.
Jadan and Danica, his wife of less than a year, enjoy spending time together outdoors, including camping and sailing, as well as travelling to new parts of the world which help them put some perspective on what it means to live well.
Congratulations Jadan.