Palliser Beyond Borders helps snowboarder take flight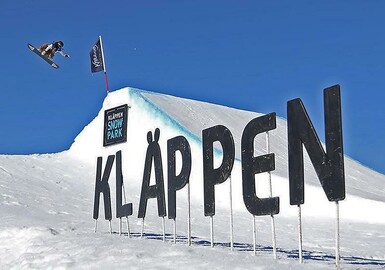 CALGARY – As a world-class snowboarder, Sommer Gendron spends a good portion of the year with her head in the clouds, literally. One of the things that keeps the teen grounded, is a commitment to her school work.
The 18-year-old is coming off a double gold-medal performance on the world stage. While her sights are set squarely on the next Winter Olympics and a professional career on the slopes, Gendron is also invested in earning a high school diploma.
Attempting to juggle those diverse goals is no easy task, but she's finding the Palliser Beyond Borders online and outreach program a "perfect fit" for her educational needs.
Gendron was looking for an alternative to traditional schooling when she moved from Toronto to Calgary last fall to be closer to her national team coach and the mountains.
"I was probably away more than I was home this year," she says, of the biggest challenge in staying on top of her schoolwork in a brick-and-mortar school setting.
While looking at options she came across Palliser Beyond Borders in an Internet search. After checking out the outreach campus in north-east Calgary and talking with the staff and principal there, Gendron saw a means to work around her busy snowboarding schedule.
This past season with the national junior team she spent weeks at a time either competing or training in such locales as Sweden, Switzerland and Italy.
Her 'off-season' doesn't provide a lot of down time either. The summer months usually see Gendron take advantage of the winter seasons in New Zealand or Australia, and she's off in mid-June to train on the glaciers above Whistler, B.C. Even when she's off the slopes her schedule includes dryland training four days a week.
"(It's the) flexibility of it," she says of the beauty of Palliser Beyond Borders. "I can log in from anywhere and can contact my teachers whenever, which is a huge help. I feel a lot more supported by going to Palliser than going through a regular high school, and it works with my individual schedule."
The arrangement seems to jive with her skyrocketing snowboarding career. A skier since age three, Gendron switched to snowboarding at about eight and quickly fell in love with the sport.  By 16, she was seriously considering it as a future career.
Gendron put an exclamation mark on the prospect this spring when she won gold medals in both the Slopestyle and Big Air events at the 2019 FIS Snowboard Junior World Championships in Kläppen, Sweden. Now the fourth-ranked female snowboarder in Canada, she graduates from the junior circuit to the World Cup tour full time.
Going up against a field of talented and more experienced snowboarders on a daily basis will likely mean stepping up her training routine even more. Having easy access to a teacher at Palliser Beyond Borders – whether in person at the outreach campus or through Blackboard Collaborate, the real-time video conferencing tool – may become an even bigger benefit.
"The teachers have always been really good with answering me quickly, and it's a lot better to have help whenever you need it, because sometimes it is confusing to just go through the online thing by yourself," says Gendron.
No matter the assistance provided by Palliser Beyond Borders, balancing her snowboarding and schooling still requires a commitment on her part. Whether her day has been spent competing, training or recovering from the physicality of the sport, Gendron makes sure she gets in at least an hour or two of schoolwork each night.
She's found that taking two classes at a time is the right workload for her, and is currently enrolled in Social Studies 20 and a foods course. Gendron moved to Calgary in what would have been her Grade 11 year and has decided to spread her Grade 12 studies over the next two years so she can score top marks in both academics and athletics.
"It is definitely a priority for me and I am hoping to graduate from Palliser with good grades and go to university once I have achieved some of the things I want to do in snowboarding," says Gendron, who's placed the 2022 Winter Olympics and the Winter X Games circuit on the top of her 'to do' list.
While she has no designs yet on a possible course of studies, she says a university education would provide her with some options once her snowboarding days are over.
Wherever life takes her in the pursuit of her dreams, Gendron is appreciative of the sacrifices and support of her family. She also wants to thank Palliser Beyond Borders staff for the guidance and assistance they have provided, including teacher Caroline Schollaardt and Principal Alison Hancox.
For more information on Palliser Beyond Borders, go to https://www.palliserbeyondborders.com/