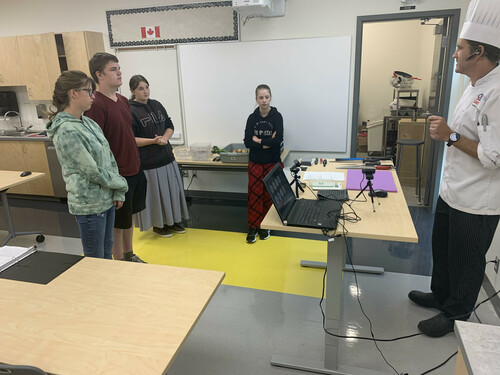 The Southern Alberta Institute of Technology (SAIT) and the Palliser School Division have created an educational partnership in which students can earn their first semester of college credit during their senior year of high school. This dual credit program with a focus in culinary arts will be offered in-person at County Central High School and Huntsville school from September 2021 to May 2022.
"We are excited to be partnering with the Palliser School District for this pilot program," says Andrew Keen, Culinary Instructor, SAIT. "It is great to be able to bring SAIT to the rural schools, giving them a taste of what to expect at college whilst also giving them High School credits."
This unique program will provide students with college-level education that covers the learning objectives of the existing freshman-year culinary arts curriculum. It is also a financial benefit to students, as the tuition from courses offers students a cost savings of approximately $4600.
"The Palliser School Division is proud to support excellence at the high school level," says Dave Driscoll, Superintendent, Palliser School Division. "Through this program, culinary students will have the opportunity to earn college credit while still in high school and give themselves a leg up towards rewarding careers in the exciting food world."
High school courses offered through this dual credit program will earn students three SAIT credits for introduction to cooking and three SAIT credits for pastry fundamentals, as well as ten 30-level high school credits.
The Palliser School Division serves student from just south of the City of Lethbridge to north of the Bow River on the outskirts of Calgary. With the addition of faith-based alternative programs, Palliser now serves students within the City of Calgary as well.