Palliser seeking long-term solution for Coaldale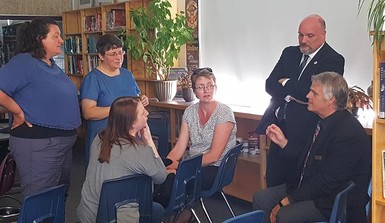 COALDALE ­– Palliser Regional Schools is exploring a long-term solution to this community's educational needs which could include a partnership with the Town of Coaldale.
More than 70 parents, school staff, trustees, town representatives and other stakeholders were on hand for a school facilities information meeting hosted by Palliser at Kate Andrews High School (KAHS). They heard the current school utilization rates and grade configurations at Jennie Emery Elementary School, R.I. Baker Middle School and KAHS, population projections for the Town of Coaldale, and the preferred option.
The option Palliser hopes to present to the provincial government this fall would address the long-term needs of the student population through grade reconfiguration and construction of a new high school. The Board of Trustees and town council has been in discussion about a partnership – something the province views favourably when approving projects – which could see a school build tied in with construction of a new recreation centre for Coaldale.
Palliser Superintendent Dave Driscoll cautioned the crowd that the meeting was only the first step towards the ambitious project, and that was to make them aware the board is looking at the "broader perspective" rather than immediate needs of just one school.
"I'm confident when we're done, we're going to have an amazing end to this journey," said Chair Robert Strauss, who emphasized the board's desire to work with the town to get the best bang for tax dollars.
Calen Hastings, Chief Administrative Officer for the Town of Coaldale, said the property in question is a quarter-section of land the town recently annexed just west of the Birds of Prey Centre. With a sport and recreation committee in place and a commitment of $1 million in seed money to start discussions, he said Palliser's interest in a partner is "staring us in the face."
Hastings said the "sky is the limit" as far as the possibilities, since the property is a "blank canvas."
"To have a recreation facility next to a high school would excite me as a high school student," said Hastings, who is a graduate of KAHS. "We are happy to continue our dialogue and see if we can time the build of a new school with construction of a new recreation centre."
Palliser is hopeful the province will approve a value management session to consider the proposal this fall, said Secretary-Treasurer Dexter Durfey. That process brings Alberta Education, Alberta Infrastructure and various community stakeholders together to talk about the possibilities, come up with the best option, and then request funding.
Under a best-case scenario, he said a new high school could be built within four or five years.
Coaldale's growing population has put a strain on certain Palliser school properties – most notably the elementary school – while the high school is underutilized. The proposal would see grade reconfigurations changed so that Jennie Emery (currently kindergarten through Grade 4) would offer kindergarten through Grade 3, R.I. Baker (currently Grades 5 to 8) Grades 4 to 6 and KAHS (currently Grades 9 to 12) Grades 7 to 12.
If a new school build is not approved, the province might still support a modernization of KAHS under the new grade reconfigurations. Durfey noted the likelihood of grade reconfiguration being put into effect sooner than a couple of years was slim unless Coaldale's population grew much more rapidly than anticipated.
The meeting did raise some questions that will have to be addressed, most notably safety concerns that the proposed property would see the highway and railroad tracks divide it from the majority of the town's population to the south.