Palliser students get a taste of democratic process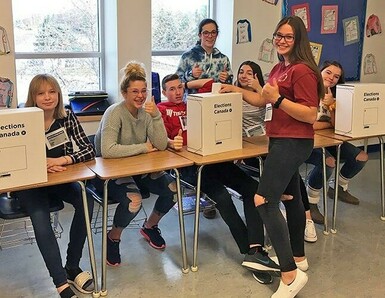 PICTURE BUTTE – Taylor Hanna can't wait for the day her ballot will count.
While she still has another four years before she's eligible to vote, the Picture Butte High School student is looking forward to a 'test drive' of the electoral process.
Students across Palliser Regional Schools are taking part in Student Vote, a program which provides them with an authentic learning opportunity including experiencing the voting process first-hand and practicing the habits of active and informed citizenship.
On Student Vote Day, Hanna and her Grade 9 social studies classmates served as election workers and co-ordinated a vote within PBHS that will mirror the federal election Oct. 21. In addition to information on government covered under the social studies curriculum, the students benefitted from free resources provided by Student Vote about the electoral process, including how to vote, how to choose a candidate and how to do proper research.
An earlier class assignment quizzed students on their take on lowering the voting age to increase participation in the democratic purpose.
"I said they should, but now that I've had more time to think about it, I think Student Vote is better," says Hanna. "You might not have input (in the election outcome) but it helps us understand how to vote so when we come of age to vote we might have a higher percentage of voters."
The 14-year-old says her interest in politics was piqued in her Grade 6 studies and she was really excited this school year because they get a chance to dig deeper into the subject. Hanna looks forward to the day she can have a greater say in the shaping of society.
"Being able to vote for someone who can, in turn change how your country is run; and also having a voice and being able to state my opinion without someone saying 'you don't matter,' is important," she says.
Teacher Jon Vande Griend says it can be challenging to convince students their voice does matter, and Student Vote can help deliver that message through a simulated election. The exercise also allows them to become more engaged with Canadian Issues. 
"As a teacher, helping students understand different views and perspectives within the parties and leaders is important in allowing themselves to feel the significance of the election and what it means to have a democracy," he says.
Thirteen-year-old Anastasiia Kireieva says voters here have a lot more choices and greater representation than in her native Ukraine, which she left some three and a half years ago to immigrate to Canada.
While her interest in politics has grown the past few years and she thinks everyone should have a say in what they need from government, Kireieva doesn't believe Canada should make voting mandatory.
"I don't really think it's positive because voting is a right and I don't think we should make it that we have to do it, because if you don't like the candidates you shouldn't have to vote for them," she says.
If Kireieva was able to cast a ballot for real, she'd likely vote for the person instead of the party.
"I don't really have a party I would vote for. I am kind of in the middle of parties, somewhere between Conservative and Liberal," she says.
For Hanna, the decision is a difficult one.
"I find that you might be voting for a person, but really their party is getting in," she says. "So I almost see it as you might as well vote for the party, because those are the people who are going to be in power."
On this day in social studies class, Vande Griend spoke with students about the role of lobby groups in politics. Previous topics of discussion included challenges to democracy and how bills become law in Canada. Students also did research on an MP of their choosing.
Although Student Vote participants cast their ballots prior to Oct. 21, results cannot be released until after the actual election. Van Griend says they carried out a similar exercise with the provincial election last year, and it was interesting to see the similarity between how adults and students voted in the region. He's eager to see if that same trend continues.
Student Vote is a program made available through the national registered charity CIVIX, and made possible by Elections Canada.