Palliser students Remember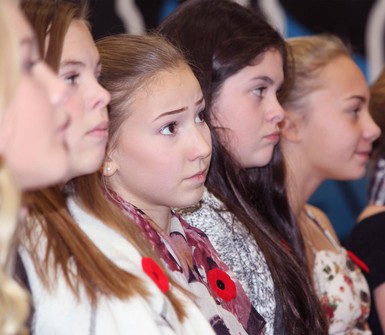 VULCAN – Remembrance Day appears on the calendar just once a year. Given the significance of the date – and the particulars of his audience – David Egert knows those messages can't be delivered on one day alone.
"It can definitely be a challenge to have them understand the significance of what it means to go to war," said the County Central High School social studies teacher of his students. "They may have read a book, seen a movie or heard about it, but they don't understand the gravity of it all."
Speaking after the school's Remembrance Day ceremony he helped organize with fellow teacher Jason Booker, Egert said it's important to put it all in context so students better understand why wars happen and what they can do as citizens to prevent them from happening again.
"It's hard because we didn't live in that time, and our generation often brushes it off because we don't know what it was like," said Grade 12 student Julia Rawleigh. "Talking with people from the older generation, you see what a disaster it was and how scary it really was."
Egert's Grade 11 students look at nationalism, and how a strong desire to advance the needs of one nation can contribute to world wars. Globalization and the fact one country's decisions can directly affect others, brings home the importance of making wise decisions to avoid conflicts and prevent wars.
In Grade 12, he teaches students that the beliefs and values they hold defines them as a person and defines the political decisions they will make.
"Choosing correct or proper ideology that would serve the best interest in the world is important to avoid some of those conflicts as well," said Egert. "I tell them, 'establish what you believe. What is your personal ideology, and how is it going to shape your decisions as a voter?' "
The County Central High School Remembrance Day ceremony featured video messages, a colour guard and placing of wreaths, performances from the school band, and poetry of both time-honoured material and original work.
Abigail Akitt recited her poem on the importance of remembering those who sacrificed so much, while fellow Grade 7 student Amy Hutchinson wrote from the perspective of a soldier whose desire to return home lives on after his death on the battlefield.
The messages were not lost on Grade 9 student Justin Bergen, who recognized those veterans not only made our country what it is today, but also made Canadians who they are.
"It's important to remember because they lost their lives for us; they lost their families; they lost their friends. They sacrificed their whole lives just to fight for a cause," said Bergen.
Principal Marty Leach noted the demands of a society which needs "everything right away" and a world which seems to be getting busier every day.
"One day a year we should stop and remember why we have all these freedoms," he told staff and students. ". . . We can slow down for a few minutes or, a day and the world will keep going on and we are still honouring those people who have given us those freedoms and privileges we have today."
Staff and students across Palliser Regional Schools marked Remembrance Day with a variety of activities.