Partners share Palliser's leadership vision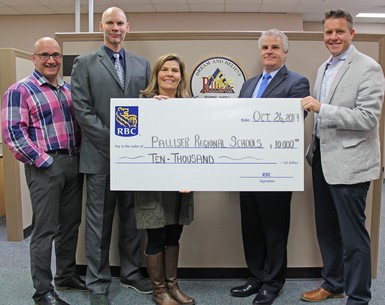 The lives touched by the experience change each year, but it's the continued support of community partners which make Palliser Regional Schools' student leadership program possible.
Representatives of RBC Royal Bank have stepped forward once again with a $10,000-contribution to help pave the way for today's students to become tomorrow's leaders.
Palliser's leadership conference for students in Grades 7-12 will be held Nov. 16 at the University of Lethbridge. While past efforts have focused on ways for students to make positive changes in their own schools, this year the goal is to come up with ways to unite the larger community.
The conference is organized each year by student leaders selected from schools across the division. The 'Blue Team,' as they have become known, will play host to not only hundreds of Palliser students, but also some special guests from across southern Alberta this time around. With a Medicine Hat high school invited to participate last year, that offer has been extended this year to others schools across Zone 6.