Perfect report card for Palliser Transportation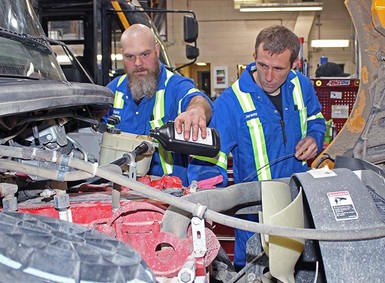 Palliser Regional Schools' Transportation Services is going into the summer break on a definite high – or perhaps more appropriately – the ultimate low.
Palliser recently received a perfect rating of 0.00 on its carrier profile issued by Alberta Transportation, a first in David Shaw's six years as Transportation Services Supervisor.
"We've gotten through a whole year where we had no issues, not a ticket, not an accident, not an inspection problem," he says. "It just goes to show we've been on top of things."
With each blemish adding up on a carrier's profile, the industry's average score is .092. Palliser usually comes in at about half that average, but not this time.
The tragic crash involving the Humboldt Broncos hockey team has seen some hesitation on the part of parents in putting their child on any bus. Shaw hopes Palliser's profile will help put some of those concerns to rest.
"Palliser talks a big game about safety and people around us being safe. This just comes to show we take safety seriously and we want to strive to be the best we can be," he says.
It's truly a team effort, says Shaw, with Palliser's 58 full-time and 30 spare drivers playing a large role with more than 1.8 million kilometres travelled annually. Those drivers ensure their paperwork is in order and inspect their buses daily to catch any burned out bulbs or other deficiencies.
Most importantly, they're driving those buses the way they should, "safely and carefully." Co-ordinating the drivers – both on a daily basis and for field trips and other activities – is Administrative Assistant Sherrie Shears.
Maintenance is the other half of that equation, says Shaw, who praised his mechanics for their diligence. By law, every school bus must be inspected twice a year. Palliser school buses, however, also get a thorough going over every 3,000 kilometres when they are brought in for regular maintenance.
Once the Board of Trustees was provided with an update, Shaw was to pass along the good news to all the drivers and mechanical staff. He will also be bringing it up again with staff at their start-up meetings scheduled for late August.
"Do I expect zero all the time? No, but it certainly is nice to see once and something to strive for every year," he says.