Principal announced for Horizon Leadership Academy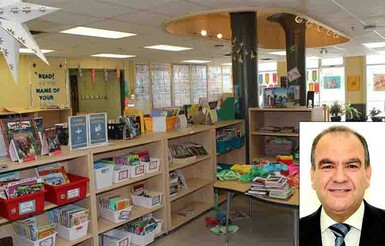 We are pleased to announce that Moussa Ouarou has been appointed to the role of Principal for Horizon Leadership Academy commencing August 26, 2019.
Moussa earned a Bachelor of Arts in management, Institute of Economics, at the University of Tizi-Ouzou in Algeria in 1990. In 1995 he earned a Master of Arts in translation studies, School of Languages, at Westminster University in London, U.K. Moussa also earned his Bachelor of Education, specializing in mathematics, in 1998 from St. Mary's University College in Twickenham, U.K.
He began his teaching career in 1995 at an international language centre, Monley College and Key Languages, before taking a role in the Public Secondary Schools System, also in London, in 1998. Moussa taught at the Foundation (Independent) School in Toronto beginning in 2000, and was co-founder and principal at Alifba Weekend School, also in Toronto, in 2005.
He took a role as principal at Abraar School in Ottawa starting in 2006 and was principal at Calgary Islamic School starting in 2010, and prior to its affiliation with Palliser Regional Schools. In 2015, Moussa moved to Dubai, U.A.E, and took a role of principal at New World Private School, before he accepted his current position in 2018 as principal at IIT Academy in Toronto.
The position at Horizon Leadership Academy was of interest to Moussa for a variety of reasons. Not only did his family enjoy their previous time in Calgary – two of his children were born there – it was attractive in that it's a public school with access to greater resources, and offers an Islamic-based alternative program with a focus on leadership.
Moussa says he will bring a philosophy of shared leadership to his new position.
"I don't believe in someone in charge and everyone else is just to take orders," he says, adding staff, students and parents all have something to contribute. "Everyone is expected to assume a role and everyone should do that proudly and take it seriously."
Although his familiarity with Calgary should help in his transition, Moussa says his number one priority at Horizon Leadership Academy is to get to know the staff, students, parents and both the Palliser Board of Trustees and senior administration.
"I also need to know more about the school itself: the policies and practices; the culture; the successes and the challenges; the setbacks; because I need to start from something solid, from reality," he says.
Having lived on four different continents and taught in three – he speaks English, French and Arabic fluently – has left Moussa open to different perspectives and different ways of doing things.
"One of my favourite mottos is 'Nothing is perfect. Everything is subject to change and everything can be done in a different way,' " he says.
Moussa and his wife Bahdja have been married for more than 17 years. They have three sons in Raouf, Suhaib and Najeeb, and a daughter, Nada. The family enjoys spending time together outdoors, taking part in social gatherings and swimming.
Congratulations Moussa.