RAP provides students with head-start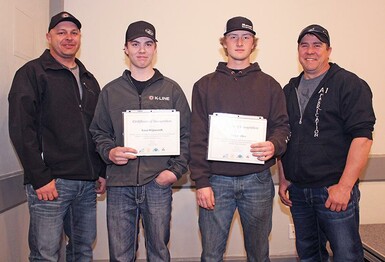 Its potential is still largely untapped within Palliser Regional Schools, but you don't have to sell Trey Kallen on the merits of the Registered Apprenticeship Program (RAP).
The Grade 11 student at Kate Andrews High School appreciates the opportunity RAP offers to get a jump start on a career. Not particularly fond of sitting in a classroom, Kallen says he's dreamed of a job in the trades his "whole life."
"I like being able to start an apprenticeship early and getting to work," he says. "And then when you get out of high school you've built up all your hours and you can go right to college and start your first year in whatever trade you take."
Kallen was one of six Palliser students who were recognized at a recent ceremony to celebrate the RAP program and the employers who make it possible. Still unsure which way he wants to go, Kallen is presently enrolled in RAP programs for both welding and heavy-duty mechanics.
The latter is with A1 Fabrication, which is owned by his stepfather. He credits Wade Feist as one of the biggest influences on his decision to enter the trades.
"I look up to him and what he does, and like what he does," says Kallen, who is in his first year with RAP. "And he's a good teacher."
Feist, who spoke at the ceremony on behalf of employers, recalls his struggle to find someone willing to take him on as an apprentice after he finished high school and a short stint working in the oilpatch. He would have jumped all over the opportunity RAP offers today's students.
"Absolutely I would have. It would have jump-started my career by five years; I would have had a huge head start; and I would have been that much further ahead in life," says Feist.
No matter the economy or the extra time and instruction it might take, he says a labour shortage in the trades makes it crucial for employers to be involved in RAP.
"If we don't train these kids and get them started and take a chance on them, then there's nobody to replace us," says Feist.
For Grade 12 student Kace Skipworth, RAP was a no-brainer.
"I was already working (part time) in a trade so I thought I might as well get credits for it," says the KAHS student, who is learning the ropes of heavy-duty mechanics at K-Line International.
Skipworth, who's always liked working with his hands and comes from a family very-much involved in the trades, is also looking at a possible career as a lineman.
"Where I work you are normally in the shop, and I kind of like the travelling around idea," says the 18-year-old. "And it's pretty good money and it is something different, not something everybody does."
While he's been able to find a pretty good balance in his schedule at this point, Skipworth acknowledges it does take a certain commitment to both his schoolwork and on the job training.  Those registered earn their apprenticeship designation and their high school diploma concurrently. 
Jennifer Coutts, an Off Campus Co-ordinator with Palliser Regional Schools, notes every work environment requires a necessary skill set like attendance, a positive attitude, punctuality, the ability to work as part of a team and balance both their apprenticeship alongside their academics.
"It's good time-management, and organization, and those are valuable skills that employers are looking for and it's going to be beneficial in the long run," she says.
Six Palliser students (see below) were recognized at the ceremony, and Coutts sees the potential for growth.
The Registered Apprenticeship Program has made significant gains within Palliser over the past two and a half years, going from zero to 30 students having completed it. She believes, however, a lot of parents don't recognize the opportunities available through RAP and other off campus programs, especially for students in a rural, agricultural setting.
Her goal is to get more students thinking about a possible career in the trades when they are in Grade 9 or 10 so they can take full advantage of RAP, and an increasing number of dual-credit courses being offered, like the Automotive Service Technician program at Lethbridge College. Dual credit courses allow students to earn high school and post-secondary credits at the same time, and for little or no cost.
Coutts says there's also more institutions offering programs where high school students can explore a number of trade possibilities, including one offered by the local Ironworkers local.
"Ideally, if planned early and with their academic counselor, off campus co-ordinator and parents working together as a team, we can have these kids essentially done their second year of apprenticeship by the end of Grade 12, which is awesome," she says.
In addition to Kallen and Skipworth, the following Palliser students and their employers were recognized at the ceremony: Scott Donovan, County Central High School, heavy duty mechanic, Agriterra Equipment; Nash Nelson, County Central High School, heavy duty mechanic, NAS Mechanical Services; Tyler Seward, Kate Andrews High School, heavy duty mechanic, Southland; and Austin Maslen, Kate Andrews High School, heavy duty mechanic, Strait Way Ltd.
Palliser just recently launched a new website for Off Campus Education. For more details on the opportunities available, go to https://www.palliseroffcampus.ca/