RI Baker Middle School receives secondary Blackfoot name following National Day for Truth and Reconciliation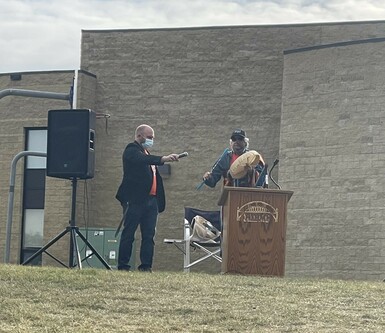 A Coaldale school received a secondary Blackfoot early Friday morning.
Children, staff and administration of RI Baker Middle School gathered outside donning orange shirts for the naming ceremony. The Backfoot name given by Elder Mike Bruisedhead was Ikaiyii Pakaigoo (kyayo) yii, which translates to Swift Running Bear.
The official renaming comes just after the inaugural National Day for Truth and Reconciliation, an annual observance honouring Indigenous children who died at residential schools and the survivors, families and communities who continue to be affected by the damaging legacy of those facilities.
Renaming the school was initiated by RI Baker Middle School Principal, Jason Prebushewski who also received the Blackfoot name I'toomoo, meaning man who walks in front or the leader.
After months of working to receive this name, Prebushewski said it was difficult not to get choked up during the official ceremony. 
"It is very moving. It is something that gives every one of us as staff and students of the school great pride in what we have accomplished.  It is an honor that we are being bestowed a traditional name," said Prebushkewski.
"It was a privilege to be involved in such a powerful and moving ceremony; listening to Elder Bruisedhead talk about his experiences as a residential school survivor," said Dave Driscoll, Superintendent, Palliser School Division. "As a division, it is important for us to foster a community of learners where we infuse Indigenous culture, language and heritage into our philosophy."
RI Baker Middle School students are working with Elder Bruisedhead to create a school logo that represents the new name and the knowledge of its origin.