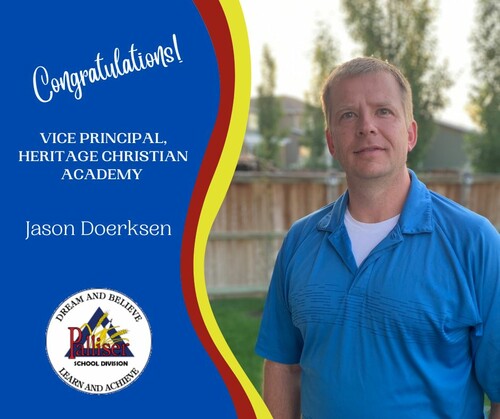 We are pleased to announce that Jason Doerksen has accepted the role of Vice Principal at Heritage Christian Academy.  Jason has been teaching for 20 years at Brant Christian School, teaching almost every math class, from grade 5 to 12.  He has also been the Athletic Director for the last 5 years, coaching everything from Junior B girls triple ball to Senior High Varsity boys volleyball. 
Jason earned his Bachelor of Education from the University of Alberta and is currently working on his Masters from the University of Waterloo.  
Jason has a passion and love for math that inspires his students.  He is grateful for the opportunity to work at a faith-based school where he can share all his knowledge and passion, " I always hope that my love for math rubs off on the students. Working in alternative faith-based programs allows me to share the love of the Lord with students while allowing them to grow both spiritually and educationally in math and sports".  
Jason has been married to his wife Mandie for 16 years.  The two met in as youth leaders in their local church and now share 3 wonderful children, Violette, Christopher and Juiliana.  In his spare time he enjoys curling and downhill skiing with his family in the winter months.  He spends Summers camping, and golfing and fishing. 
Congratulations, Jason!