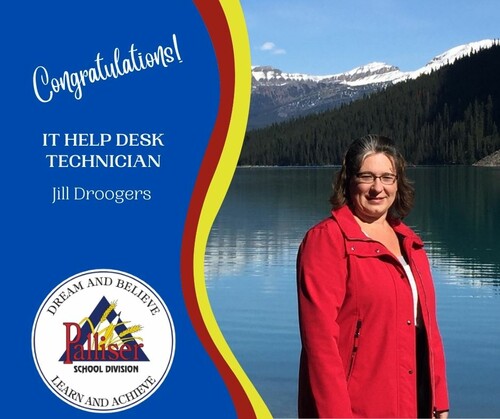 Palliser School Division is pleased to announce that Jil Droogers joins us as IT Help Desk Technician.   Jill has been working at Huntsville School, where she served as an EA for a year and as an Early Learning Educator/Learning Commons Facilitator for another year. She earned her BA in Education & Business from Dordt University in Sioux Center, Iowa, with minors in Computer Science & Secretarial Science. She pursued this diverse educational path hoping it would offer her flexibility and a wide range of job opportunities in the future.
After her graduation, she took on the role of Office Administrator Assistant for over six years at a Feed Mill/Trucking Company. There, she handled invoicing, general office tasks, and introduced truck drivers to Elogs, printers, scanners, and tablets. Prior to this, she was involved in Loan Document Quality Control at Fifth Third Bank - Direct Lending in Grand Rapids, Michigan, and even before that, she managed Accounts Receivable at a local furniture store.
In January 2020, she relocated to the Lethbridge area (Iron Springs) from Kitchener/Waterloo, Ontario, due to her husband's pastoral duties. She's a mother to three boys, which occupies most of her time. Her youngest, a 14-year-old, is non-verbal and has autism. His achievements in school inspired her to become an EA to assist other children with similar needs. This journey has also honed her proficiency with computers, technology, and troubleshooting, especially with the communication app Proloquo2go and various computer settings on PCs, Chromebooks, and iPads. She possesses a passion for assisting others and has been often praised for her ability to break down complex subjects into easily understandable steps for teaching.
Welcome, Jil! 
Outside of work, she enjoys watching retro movies from the 80s & 90s, listening to soundtracks, organizing, crafting menu plans, and indulging in cooking and baking. With her favorite holiday around the corner, she and her son have already dived into the spirit by listening to Christmas music and watching festive movies. However, her eight boxes of decorations won't see the light of day until after November 11th. Anyone is welcome to stop by her office or glance at her window to admire the festive decorations or seek technical assistance.