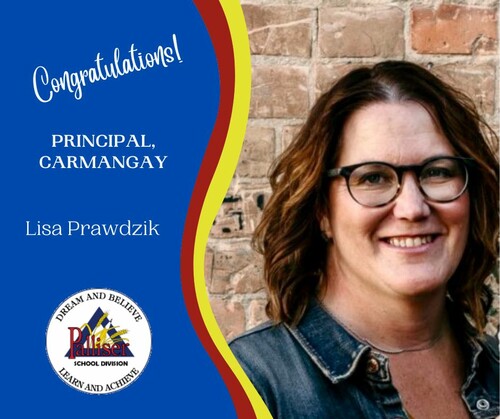 Palliser School Division is pleased to announce that Lisa Prawdzik has accepted the role of Principal of Carmangay School starting August 29, 2023.
Lisa holds a Bachelor of Arts degree from the University of Lethbridge, which she earned in 1994, followed by a Bachelor of Education degree from the same university in 1996. She has had an extensive career with the Lethbridge School Division, gaining valuable experience at both middle school and elementary levels. Additionally, she spent two years on secondment at the University of Lethbridge while completing her Master of Education in Curriculum and Assessment in 2017. Lisa also obtained her Leader Qualification Standards Certification from the University of Calgary in 2020, bringing her teaching and leadership experience to over 25 years. Currently, she serves as the Vice Principal and Learning Support Teacher at Westminster School.
Lisa's passion and educational vision revolve around enhancing the quality of students' educational experiences by fostering strong partnerships, creating safe and flexible learning environments, and building trusting relationships. She is dedicated to exploring innovative teaching methods that engage and motivate students, acknowledging their diverse learning styles.  "I understand that students have different learning styles, and I am always willing to explore new approaches to support all learning needs," she says.
Lisa emphasizes the importance of teamwork to ensure student success, recognizing the role of families and the community in the educational process. She has experience working with community partners, leading program initiatives, enhancing learning experiences, developing staff, and collaborating with teachers and parents to establish positive and supportive programs.
In her personal life, Lisa enjoys spending time with her husband Chris and four children.  They enjoy exploring and spending time outdoors. Lisa is looking forward to the new role, and to collaborating with the Division and Carmangay School. She welcomes the exciting challenges that this new role will bring. 
Congratulations, Lisa!