Student-leaders benefit from a new perspective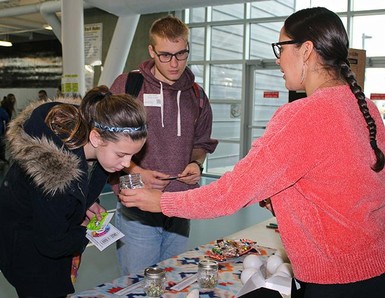 With four years of student leadership conferences already under its belt, auto pilot might have seemed an obvious route as Palliser Regional Schools headed into its fifth.
Instead, a substantial departure from the usual flight plan saw the initiative take on a truly regional scope, with more than 650 students from nine school jurisdictions across southern Alberta benefitting.
Jason Kupery, Palliser Director of Learning, said it was a real plus to have more partners at the table and more thought on different approaches to teach students how to be effective leaders in their school and the larger community.
"Opening it up has forced us to look differently at how we engage our schools in leadership," he said. "We brought it to this point, but now it's time to change a little bit because this is going to be a regional conference going forward."
In addition to attending breakout sessions designed by, and put on by fellow students, they took part in hands-on activities at a Wellness Café this year. Kupery said that change, under the guidance of Alberta Health Services, gave the event a different dynamic and flow.
The past few conferences saw Palliser invite Grade 7-12 students from a few other school districts to observe. Greater participation by those students this year should help Palliser students expand their horizons.
"We always take a great deal of pride in Palliser in how inclusive we are given the nature of our school division," said Kupery. "But it was nice to open that up to an even broader perspective and it's nice for students to work with people from other school divisions."
Collaboration ­wasn't limited to students, as new partners like the Southern Alberta Professional Development Consortium ­stepped forward. Working with others is an important skill for today's students, he said. They learn their opinions aren't the only ones that matter and that leaders have to listen as well as speak out.
The theme of this year's conference was "You First: Leading Yourself to Better Lead Others," and the breakout sessions highlighted ways to achieve wellness, whether physical or mental. Students learned they have to take care of themselves before they can effectively lead others.
"It is important for students to learn the skill of self care so that they are more effective and capable leaders in the future," Kupery said.
The conference, which was made possible through the major sponsorship of RBC Royal Bank and support from KPMG Canada and the University of Lethbridge, opened with keynote speaker Monique Smith.
The youth mental health therapist told student-leaders they can't expect those following them to make good decisions if they're making poor ones themselves. She provided them with strategies to stop reacting and start thinking during those tough moments so they can respond in the appropriate way.
"By doing this, we create a game plan to be in a better thinking space," said Smith.
The conference closed with words by Cowboy Smithx, an Indigenous filmmaker from the Kainai Reserve who told students they are the "ancestors of the future." That's not something they should take lightly, he added.
"Three thousand years from now, you are going to be the ancient ones. They will say 'I am proud of what my ancestors did and proud of the legacy that they carved out for me as a young person in a modern, scary world.' Or, they are going to be disappointed in you," Smithx told them.
Our ancestors had a vision for all of us, he said, and that was to create a better community for each other. He urged them to take action and not waste time with things like hate and discrimination.
"Anything you want to do, do it. Go get it. Go find it. Become it. Embrace it," said Smithx.