Students earning more than just credits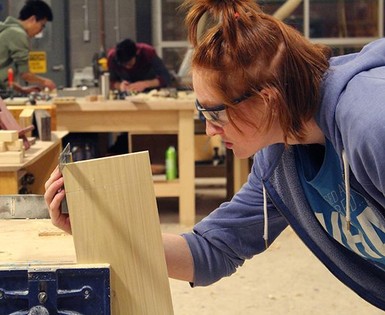 Their motivation may differ, but Palliser Regional Schools students enrolling in dual credit programs share a mutual reward.
Dual credit programs allow students to earn high school and post-secondary credits at the same time – and for free – during their high school years.
"One of the main objectives is to spark a curiosity or a passion in the students through opportunities which aren't otherwise available to them in a traditional classroom setting," says Jason Kupery, Director of Learning.
While Palliser has only just dipped its toes into the pool of possibilities, he says work is underway on some exciting new partnerships that will engage students in a meaningful way and provide them with opportunities to apply their learning outside the classroom.
After offering its first dual credit course a year ago, Palliser has expanded its offering to eight this year. Seven of those are in Calgary, including the Pharmacy Assistant Program at the Southern Alberta Institute of Technology (SAIT).
Zainab Mustanser doesn't necessarily see the course as a destination, but rather a means to get there. If she completes both years of the program she could graduate high school and have a job waiting for her that pays more than the service industry.
"It was a really good opportunity because if you want to go to university later on, then you need to have a job where you can make money," says the Grade 11 student at Calgary Islamic School, Akram Jomaa Campus.
It doesn't hurt that Mustanser is interested in medicine – perhaps a career as a herbalist like her grandfather – and the field of pharmacology isn't a huge departure from that.
Juliana Bruyn was hoping the Pre-Employment Carpentry program at SAIT might provide her with some direction.
"I was thinking I like working with my hands and I know I don't want a desk job, so I thought I would look into it and see if it could hold my attention all day long," says the Grade 12 student at Master's College. "And if it could, then I might look into that further as a career."
Jensen Rennick enjoys shop class at Calgary Christian School and thought it would be a "missed opportunity" if he didn't try the Pre-Employment Carpenter program.   
"I am interested in doing hands-on stuff and building things, so it's either carpentry or being an architect or an engineer," says the Grade 11 student. "This may help me narrow it down and decide."
The fact tuition – as well as the materials required for the dual credit courses – are covered by the school division was a factor in Aasiyah Basic signing up for the Pharmacy Assistant program.
"I think my parents would pay for it, but I don't think I would want them to," says the Grade 11 student at Akram Jomaa. "School fees are already expensive, and books and scrubs are really expensive too."
While they are held at a post-secondary campus, students enrolled in the dual credit courses aren't studying alongside their college counterparts. The expectations of them are the same as any other student enrolled there, however, and they do get a taste of a different learning environment.
That should help in the transition from high school to post-secondary education. Basic says the experience has already had a positive effect, as she finds herself taking a more mature attitude with the rest of her high school classes.
If the dual credit program sounds too good to be true, it should be noted there is a certain amount of commitment required with classes held on campus four days a week.
"My mom works (at SAIT) as well, so I just get here early in the morning and do homework here," says Grayson Deda. "I think the schedule is great."
The Grade 11 student at Heritage Christian Academy has got a possible job lined up after high school with an uncle who builds homes, and thought the Pre-Employment Carpentry course might help decide if that's the right route for him.
Several of the Palliser students did note, however, that adding a dual credit course to their calendar did require better time management on their part. Others found it beneficial to work with their high school teachers to juggle schedules so their work on either end didn't suffer.
"I'd tell them to go for it," says Bruyn of the advice she'd provide others considering dual credit courses. "It's a great experience. Just beware you have to manage your classes and be on top of your school work."
While Palliser looks to offer dual credit courses based on student interest, Kupery says the school division is limited to post-secondary programs which have room for additional students.
In addition to the Pharmacy Assistant Program and Pre-Employment Carpentry, Palliser offers through SAIT: Engineering Design and Geospatial Technologies; Energy and Environment Engineering Technologies; and Pre-Employment Electrician. Through Ambrose University in Calgary, Palliser offers: Introduction to the Bible; and Introduction to Business.
The University of Lethbridge offers an introduction to film studies, Cinema 1000, and Palliser is working on another dual credit option in southern Alberta.
For more information on dual Credit courses and other Off-Campus Programming available through Palliser Regional Schools, go to https://goo.gl/AhhTdb