Students rule in Baker Cup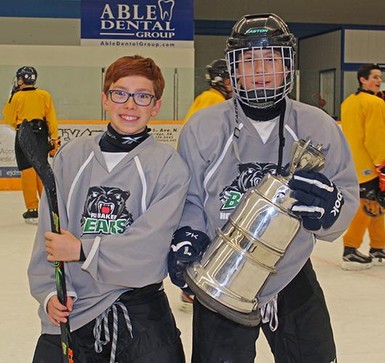 COALDALE – A report card isn't likely necessary for this particular classroom of students.
The four dozen or so members of R.I. Baker Middle School's Hockey Academy should pass with flying colours if this on-ice exam counts for anything. For the first time in years, they bettered their elders in the recent Baker Cup, the school's annual student-staff hockey game.
As the final buzzer sounded and their schoolmates rose to their feet in the stands at the Coaldale Sportsplex, the entire student bench poured onto the ice to accept the hardware after an 18-11 victory.
The contest – which featured a first-time goalie in the form of Principal Jason Prebushewski, referees dressed up as Baker Bears, and academy director/former NHLer Bruce Bell robbed on a breakaway – was a culmination of the students' twice-a-week, on-ice sessions this year.
It was an opportunity for those students in Grades 5 to 8 to demonstrate how far they've come, with family, staff and the entire student population of R.I. Baker in the stands. The boisterous crowd was bolstered once again by Grade 4 students from nearby Jennie Emery Elementary School. They cheered every goal, and even louder for their classmates who had their names pulled to take part in between-period 'shoot-to-win' contests with boxes of donut holes up for grabs.
The game was also a chance for the students to interact with those across the ice at a different level than usual.
The hockey academy, which continues to grow at R.I. Baker each year, caters to players of all skill levels. Students aren't graded on how they match up against others, but on their own growth. Class participation, accountability and sportsmanship also earn marks.
Many of the students will move on to Palliser Regional Schools' hockey academy at nearby Kate Andrews High School. The hockey academy was first born there in 2008, and introduced the next year at R.I. Baker.