Students tackle mental illness stigma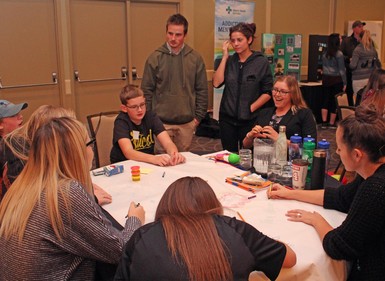 LETHBRIDGE – At one point in the presentation they formed a line at the podium, each taking a moment to describe the mental health issues they've been diagnosed with: Attention Deficit Hyperactivity Disorder; Post-Traumatic Stress Disorder; drug and alcohol addiction; schizophrenia; anxiety; depression; bipolar disorder; and more.
Tessa Feldbusch didn't dwell on their particular mental illness or the depths to which their struggles took the guest speakers at the Headstrong Summit. Instead, the Kate Andrews High School student will remember the stories of their recovery efforts and their message that "it's OK to not be OK."
"There was a point where each of these people was at their all-time low, where they had nothing and felt alone," said Feldbusch, who was among nine Palliser Regional Schools' students taking part in the initiative to reduce the stigma surrounding mental illness. "And look at them now. They are so successful and they believe in themselves. That's something I will always look up to."
The first-ever Southwest Regional Headstrong Summit attracted more than 100 Grade 9 students from 20 schools across southern Alberta, including Coaldale's KAHS and Coalhurst High School.  They heard from a variety of young adults who shared their personal experiences with mental illness.
Coalhurst High School student Brooklyn Watmough said it was helpful to learn about the many forms mental illness can take and that there's no magic cure-all.
"Depression is so different from ADHD or schizophrenia and there are so many different ways to deal with it. Sometimes medicine works, sometimes it doesn't. This counsellor might have worked, this one didn't," she said.
The students' education began with an explanation of what 'stigma' means and how dealing with that negative association can be as difficult as living with mental illness. Students were asked to stand if someone close to them has been touched by mental illness, and almost every table was represented.
Yet 40 per cent of parents surveyed said they wouldn't tell a close friend or family member if their child was diagnosed with mental illness, said Fiona Haynes, co-emcee and Western Canadian co-ordinator of Headstrong.
Her daughter, Daisy, was among the summit presenters. Her journey already a roadmap of bullying, abusive relationships and sexual assault, she's battled with depression, self-injury and suicidal thoughts. Daisy, who is looking to go into criminology and is also a Pokémon trainer, told the students she wasn't looking for their pity. She just wanted them to know that recovery is possible.
"Daisy really emphasized how everyone is worth something and how everyone matters," said Hannah Doherty, of CHS. "That's something I want everyone in my school to know. That they do matter."
Kylie Bryan was touched by the survivors' stories, and came to realize those who battle with mental health issues really aren't that different after all.
"You can still strive to find your passion," said the Kate Andrews student, who connected with a young man whose goal was to study at the same post-secondary institution she hopes to attend.
"He really inspired me because of what he went through and his story and he still achieved his goal. That makes me even more determined and I know I can get to my destination," said Bryan.
Students wrapped up the summit by drafting an action plan to reduce the stigma around mental illness and promote mental wellness in their own school.
Emily Holt said her Coalhurst High School group talked about putting on an assembly where students could be educated on the signs of mental illness and where to find help.
The Kate Andrews team is also planning an assembly, where students will be informed it's not a hopeless situation for those with mental illness.
"And we're going to make a bulletin board and go into detail that even though you're not OK doesn't mean that you won't be Ok in the long run, because you can get help and you can get through it," said Alexis Bezoyen.
The summit was a partnership between the Southwest Regional Collaborative Service Delivery and the Mental Health Commission of Canada. Last year Palliser students from Milo and Arrowwood community schools took part in a similar summit in Calgary.
The mental wellness of students and staff is not something Palliser addresses just once a year.
Director of Learning Shane Cranston said it starts with teachers being more cognizant of times students might be stressed or anxious or face some sort of mental health issue. That awareness comes as a result of the mental health curriculum for junior and senior high students, the focus on self-regulation, and through support staff who work with the classroom teachers.
Support is also provided through a dozen Family School Liaison Counsellors, a staff psychologist and through community partners including health and mental health agencies. Next week Palliser staff will receive training on the signs which indicate a colleague might need some mental health support, and where to find it.
Palliser Regional Schools has come a long ways over the past few years, said Cranston, when it comes to recognizing the importance of healthy minds as well as bodies.
"If we have a strong sense of mental health in our classrooms, we can then move forward with the learning piece," he said. "Without that, learning is secondary to having healthy children."