Students' work shines in card showcase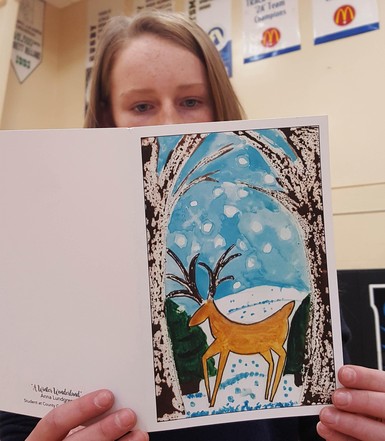 VULCAN – Like many artists, Anna Lundgren can be her own worst critic.
The Grade 8 student was caught off-guard when she was announced as the winner of Palliser Regional Schools' annual Greeting Card Showcase during a County Central High School assembly.
"I was surprised," said the modest 13-year-old. "I didn't think it was very good."
A selection committee at Palliser's Central Office thought otherwise, as Lundgren's original artwork topped more than 60 entries from across the school division. This year's theme was "A Winter Wonderland," and her interpretation led to a watercolour and wax crayon rendition of a wintery, forest scene complete with wildlife.
It was Lundgren's first time entering an art contest and she drew her inspiration from a source common to many of her fellow teens.
"Lots of things on the Internet about "winter wonderland" were like deer, and the snow, and like trees," she explained of her artwork, which took three classes to complete.
Although Lundgren has long enjoyed art – colouring first, and now drawing – she's not aware of inheriting such talents from parents Edie and Jeff. She also has an older brother, Travis, who attends CCHS, and younger brother, Garett, who goes to Vulcan Prairieview Elementary School.
Palliser's itinerant art teacher, Michael Shain, describes Lundgren as a very capable and skilled student.
"She demonstrates a strong desire to learn and improve and she's always willing to try new techniques and media," said Shain, who made a special effort to be at the assembly. "She is coachable and super pleasant and just a real pleasure to have in class."
For her efforts Lundgren won a gift card to Chapters, will have her artwork featured on the cards Palliser sends out to community partners, and she also received 25 cards for her own personal use.
If entering an art contest was a new concept for her, like many teenagers she's also unfamiliar with the practice of mailing out greeting cards. As such, Lundgren isn't sure yet how many she will send out to family and friends, and how many she'll put away as keepsakes.
Robert Strauss, Chair of Palliser Regional Schools Board of Trustees, made the surprise announcement and presented Lundgren with her prizes. He was joined at County Central by Trustee Lorelei Bexte. Strauss made a point of thanking Shain for his continued support of the greeting card showcase and his passion for the arts.
The art teacher  uses the contest as a learning opportunity for his students.  Although he didn't delve into the history of greeting cards as much as he has in the past, he did use the occasion as a culminating activity in their watercolour unit.
"I always brainstorm and discuss linguistic cues as starting points in the design process and we did talk about honouring all faiths and keeping this as a winter holiday greeting card," he said.
Shain said it's always satisfying to see students take  an interest in the arts, adding this time of the year does provide lots of inspiration.
"I think the project appeals to the child in all of us. We delight in the rituals of Christmas, the food, family and the joy of giving and getting gifts," he said.
See a sample below of entries into Palliser Regional Schools' Greeting Card Showcase.