Sub teachers tour colony schools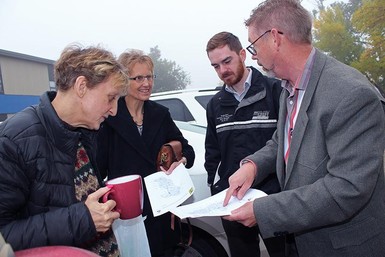 As a recent university grad, Jean Brochu is looking to get his foot in the door on a career in teaching.
That means gaining experience and making contacts as a substitute teacher. He recently had his eyes opened to another opportunity during a ride-along to a handful of Palliser's Hutterite colony schools.
Brochu says he'd have no hesitation in answering a call for a subbing job at a colony school after the experience.
"I don't think it's particularly new, it's just different," he says of the colony classrooms the tour visited. "And I don't think as teachers we should be afraid of different."
Dan Ryder, Palliser Regional Schools' Principal of Colony Schools, says the familiarization tours are being offered for the first time this school year after his staff brainstormed ways to increase the substitute teacher ranks available to them.
He went down the sub list and offered a voluntary ride-along to those new names noted. This particular tour featured Brochu, from Lethbridge, and two others from High River and Calgary respectively.
One of the potential barriers in bolstering sub ranks is lack of familiarity with the location of Palliser's colony schools. Palliser has 17 colony schools serving more than 365 students, with River Bend the furthest north and Hofmann the deepest south.
Each ride-along begins with Ryder, acting as chauffeur, providing a map of Palliser's colony schools and directions on how to get to those being toured. Brochu says having that information can be a big plus when sub work is offered.
"If you get that call you go 'hmmmm. I can probably make that (subbing job) now that I know where it is,' " he says.
Each ride-along stops at several colony schools – either north or south – with participants getting a chance to view classrooms as well as meet teachers and students.  Each ends with a hardy, homemade lunch at one of the colonies visited.
Brochu was eager to learn about the peculiarities of a one-room school, with the colony teacher responsible for all grades and subjects.
Greeting them on the first stop of the ride-along was Rebecca Holgate, now in her 13th year of teaching.
Before she took the Wild Rose Colony School job a year and a half ago, Holgate says her most pressing question was whether she'd have enough planning time to ensure she met the needs of all the grades. She's since learned the value of being flexible, and straying from rigid plans.
"It's an evolving process. You meet the kids and see what works," says Holgate. "You're just trying to find different ways to meet different students' needs."
The drive time between schools allows for plenty of questions and answers. Among those Ryder commonly fields include questions about how they will be contacted for subbing jobs, cultural differences, dress code and interaction with the German teacher at each colony school.
Brochu found tips provided by the colony school teachers during the visit were particularly helpful in the area of classroom management and the cultural nuances of Hutterite colonies.
He was also impressed by some of the progressive classroom practices he witnessed. Among those was younger students learning vocabulary by using words to describe a picture – in this case a man riding a tractor. At university he learned about curriculum development and focusing on meaning, more than form.
"I thought it was very forward thinking in that they were making it meaningful and impactful and that's exactly what education is doing right now," says Brochu.
Sub opportunities not only fill the pantry, they can lead to permanent positions at colony schools. While the job has its challenges, Ryder thinks the benefits are worth it.
"It's tough but it's rewarding, because the kids love the teacher and the colony shows appreciation in so many ways of their English teacher," he says.
One of the job benefits Holgate appreciates comes from the small class size, in her case six students in total.
"You just really get to know your students, which you don't get as much in other schools because you have a different class each year," she says. "It just feels more like a family to me." 
Substitute teachers looking for information on Palliser's Hutterite colony school ride-alongs can contact Ryder at dan.ryder@pallisersd.ab.ca