Focus of Summer Reading Club is fun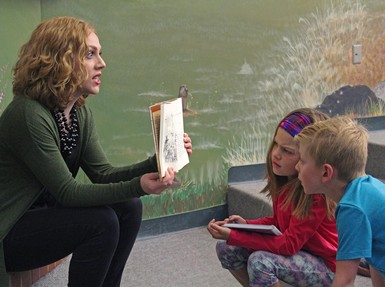 COALDALE – Literacy has long-been the focus of Palliser Regional Schools' efforts. It's serious stuff.
Just don't tell that to the four dozen students who are giving up some of their vacation to take part in Palliser's Summer Reading Club.
The idea behind the third annual program is to prevent the deterioration of reading skills which can result if students don't include some book time among their summer vacation plans. The goal is to do it in an entertaining fashion.
"If we're doing our job right, hopefully they're looking forward to coming back the next day," says Cynthia Gietz, director of learning. "We want to get them interested in reading if they're not, and if they're excited about reading, it should naturally follow that they're improving their reading."
Working with the students at Summer Reading Club are Summer Temporary Employment Program (STEP) students, Dayna Anwender and Leslie-Ann Griffin.
Anwender says she noticed growth in her students in her first year with the program last summer. She recalls one student in particular who liked to read, but was a little nervous at first. The student's confidence grew as her reading skills improved.
"She was so excited to come back every day. She would say 'Miss A, I learned this strategy today,' or she would get stuck on a word and say 'oh, I'll just look at the picture (for a clue to the word in question),' " says Anwender.
She also notes some of last year's campers are registered once again, which might be the best testimonial possible.
Once students were registered, their parents were contacted to find out their interests and what kinds of books they like to read. Providing students with age- and reading-level appropriate reading material is key to capturing their attention.
"You and I, as adults, don't want to read something that someone throws at us and says 'read it.' Kids are people and people are varied and we want them to read what interests them," says Gietz.
This year the program was altered so students gather for two hours of reading and fun literacy activities each day over a two-week span, rather than three weeks of 90-minute sessions as in the past.  The extra time each day allows for greater individual attention for each student, and the shorter term makes for a less onerous commitment.
The Summer Reading Club runs at Jennie Emery Elementary School through July 28. The Coaldale school will host a second session in August, when the program will be extended to Coalhurst Elementary School, Noble Central School and Vulcan Prairieview Elementary School.
A shared reading experience has been added this year, with each group reading a common book together. Gietz says being read to is a valuable experience.
"You become familiar with what good reading sounds like," she says, adding there's even greater benefits when dialogue is encouraged about the passages just read. "You don't want to kill the book with questions, but when kids hear the questions of others, they say, 'oh, I never thought of that.' That gives them an awareness that not everyone responds to the book in the same way they do, which is fine."
Gietz praised Palliser school staff for volunteering their time again this year to help their students get off to a flying start next school year.
For a variety of literacy resources go to Palliser's website at https://www.pallisersd.ab.ca/literacy