Sweet project tests Milo students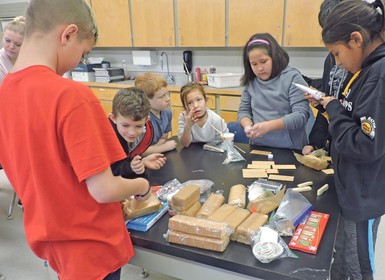 MILO ­– Students at Milo Community School recently had an opportunity to put their knowledge to test in a creative – and delicious looking – way.
The Palliser kindergarten to Grade 9 school recently hosted its first-ever STEM (Science, Technology, Engineering and Math) challenge. Students were given one hour to work in multi-grade teams to create a cookie community.
Students were all given the same materials, and they were not permitted to use any supplies from outside of their project bins. Most of the materials were edible, including graham crackers, marshmallows, icing, pretzel, and candies. Students also had some non-edible items, including rubber bands, brass fasteners, and toothpicks.
The judges used the following criteria to choose a winner: team work; good use of materials; and planning. Students also had to make sure their project was aesthetically pleasing, and had at least one moving part.
Milo Community School is appreciative of the judging panel, which consisted of: Palliser Associate Superintendent, Pat Rivard; Director of Human Resources, Mike Nightingale; Vulcan County councillors, Michael Monner and Sheldon Walker; and new community member, Aaron Aiken
Principal Kerry Aiken said everyone was so impressed with the hard work and creativity of the students and are looking forward to hosting more challenges this year.