Subscribe to receive a weekly Palliser newsletter
Sep 18, 2013
Teacher from Spain visits Palliser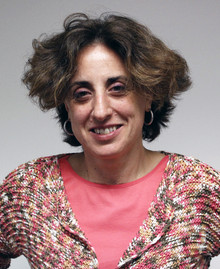 An English teacher from Spain is looking for insights into teaching English as a second language from her counterparts in Palliser Regional Schools as she completes a two-week international exchange at Kate Andrews High School in Coaldale.
Manuela Sanchez Vicente arrived in Canada on Sept. 6, one of five teachers from Spain in Alberta this month as part of an Alberta Teachers' Association international exchange program.
Sanchez Vicente teaches English to 12- to 18-year-old students at IES Zorilla, the oldest school in the city of Valladolid, capital of Castilla y Leon, a region in northwestern Spain known for its many castles.
She is a guest of Kate Andrews High School Principal Danny Roberts, who plans to travel to Sanchez Vicente's school later this year.
She says she's interested in how she might encourage her students to speak English more inside and outside the classroom. Knowing her interest in English instruction, Roberts has arranged for her to visit schools in Palliser whose students also are new to English. She'll spend a day at a Hutterite Colony school as well as at John Davidson School in Coaldale, an alternative program for Low German-speaking Mennonite children.
The school offers second language courses in English, German and French, with English proving to be the most popular.
"I tell my students, you can travel all over the world with English," she says.
Her school in Spain, built more than 150 years ago, provides a basic, required diploma education, completed by students by age 16. It also provides an additional two years of pre-university education, and two years of basic or superior technical studies in areas of transportation and commerce.
Demand for entry to these additional years of education has been quite high since the economic downturn in 2008, she says, and the programs are free for even adults who want to upgrade their education.
Roberts has also arranged for Sanchez Vicente to take part in cultural activities, including a corn roast, a visit to Edmonton where she met up with other teachers from Spain, a Lethbridge Hurricanes hockey game, and sight-seeing in Waterton Lakes National Park. She also will be working with Kate Andrews High School's Foods students to prepare a traditional Spanish meal, likely paella, a rice dish featuring vegetables, seafood or chicken, and she's spending time in Kate Andrews Language Arts classes.
Roberts says on his trip to Spain, he's looking forward to learning more about the country's approach to school leadership, where the principal and vice-principal aren't appointed. Instead, a team of teachers within the school can propose themselves to serve as the school's board. One individual is head master/mistress, with others in the group serving as deputies assigned to the tasks of discipline and budgeting.
If more than one group of teachers comes forward offering to serve as the board, the choice is taken to a vote by a council of students, parents, teachers and municipal leaders. The selected leadership team serves for four years, and the council may decline the offer of leadership by one group of teachers, and if that happened , the educational authorities in the regional government could insist instead on the incumbent board continuing to serve, whether they want to or not, Sanchez Vicente says.
With just over a week spent in Canada so far, Sanchez Vicente says she's been struck by how differently society here moves. Her city is pedestrian friendly, and strolling the shops is how people meet and get to know one another. Here, she's noticed, there's little such foot traffic.
She says the landscape is quite similar here and at home, flat and agricultural, and she's found the people to be warm and friendly.
Sanchez Vicente will be attending Palliser's professional development day in Vulcan Sept. 20, where she'll see how the division's teachers work in small collaborative groups.