Theatre project learning experience for VPES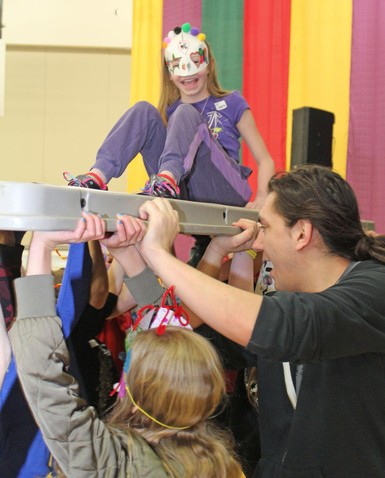 VULCAN – The timetable was all preparation and rehearsal, but two final performances weren't all that students at Vulcan Prairieview Elementary School took away from a week with the Trickster Theatre company.
Through its artist-in-schools-residency program, Trickster takes a theme provided by the school and with ongoing student input creates an original theatrical performance. The Palliser school chose a Leader in Me theme, so it could share those important messages with family and friends in the audience.
It was also an opportunity for Vulcan Prairieview students to look at the Leader in Me program, which is based on "The 7 Habits of Highly Effective People" and the idea that every child can be a leader, in a different light.
"Just being involved with that language and thinking about how you are going to teach others, it helps them get a little better understanding," said teacher Heather McBride. "And it's a fun way to review the habits too."
The creative process began in December, with each class at Vulcan Prairieview selecting one of the Seven Habits to showcase. They reviewed what each meant and discussed ways to best convey that message to the audience.
That information was forwarded to Calgary-based Trickster, which began working on a script and appropriate props for the performances. Through the week they expanded on that in collaboration with the students.
A company of physical theatre, Trickster believes students can better learn curriculum by acting it out. That engaged, hands-on learning process provides what they call an "out-of-desk experience."
McBride, the school co-ordinator for Trickster, said the experience allows for greater learning opportunities than drama alone. There's physical literacy activities along with language arts, as students help write the script and make revisions. Art is involved as well, as each student designs a program for the performances.
"There's also a lot of other skills involved – like listening and working together – and it's neat to do it in a different setting," she said.
This was the third time Vulcan Prairieview has brought in Trickster, with the most recent occasion being four years ago. That production also had a Leader in Me theme, although the program was only in its infancy at the school at that point.
McBride said the school's previous experience with Trickster was nothing but positive, as both students and staff enjoyed the interactive nature of the process and the production value the company brought with it. Unlike many drama productions, where only a few students share the spotlight on stage, every child in the school is involved in the performance. 
"Your role might be big or small, but everyone can be up front having fun and being part of the whole show," she said.
Also filling a significant role was a full crew of parent-volunteers, and McBride noted the learning experience wouldn't have been possible without the support and financial backing of the School Council.
"It was an amazing week," said Principal Tracy Inaba after the final performance.
In addition to the learning opportunities McBride had mentioned, Inaba said the exercise also helped students develop self-confidence and brought their school community closer together.